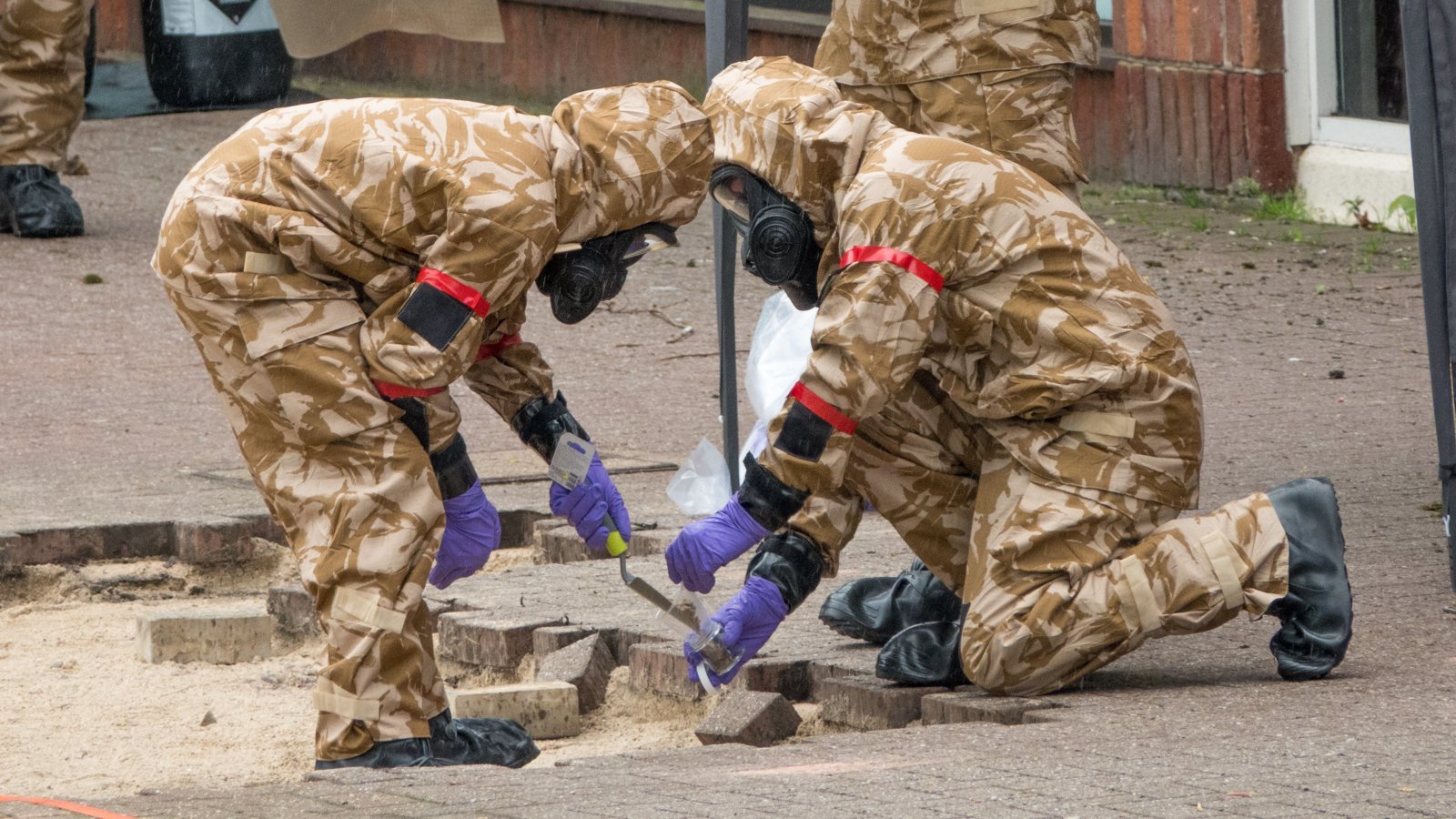 The State Department says it will be implementing new sanctions on Russia as punishment for the poisoning of former spy Sergei Skripal and his daughter Yulia on British soil in March. The two survived the attack, but another woman who came in contact with the nerve agent months later, Dawn Sturgess, has died. Her boyfriend, Charlie Rowley, was released from the hospital late last month. 
Secretary of State Mike Pompeo has signed off on a determination that Russia violated international law by poisoning Sergei Skripal and his daughter in March, [U.S.] officials said. Although the U.S. joined European countries in publicly blaming Moscow within days of the attack, Trump's administration had never issued the formal determination that triggers automatic sanctions under a decades-old U.S. law on chemical weapons.

(...)

... Trump had to be nudged by Congress into unleashing the penalties after blowing more than a month past a statutory deadline. The government had two months after a formal congressional request in March for Trump to determine whether or not Russia had violated international law. After the deadline came and went with no response, Trump was called out in late July by House Foreign Affairs Committee Chairman Ed Royce, NBC News first reported.

... Royce, who faulted Trump for failing to make use of existing sanctions authorities on Russia, had urged Trump to comply by midday Wednesday.
The 1991 Chemical and Biological Weapons Control and Warfare Elimination Act "requires the President to make a determination with respect to whether a country has used chemical or biological weapons in violation of international law or has used lethal chemical or biological weapons against its own nationals," the State Department said. Once that determination is made, sanctions are mandated, unless the president determines it is in the national-security interest of the United States to waive them.
The sanctions will come in two parts. 
Russia will be denied the export of any national security-sensitive goods or technology. Previously, national security-sensitive goods were exported to Russia only on a case-by-case basis.

The new sanctions effect goods such as gas turbine engines, electronic devices and equipment, circuits and calibration equipment. A senior State Department official estimated the sanctions could affect hundreds of millions of dollars in trade with Russia.

The Chemical and Biological Weapons Control and Warfare Elimination Act of 1991 outlines the criteria Russia must meet to avoid a second, more punishing round of sanctions that could be imposed in 90 days. Those additional sanctions include a restriction on flights from Moscow Aeroflot airlines to the United States, restrictions on U.S. bank loans, more export and import restrictions, including gas and petroleum, and even a downgrade of diplomatic relations.

To avoid the sanctions, Russia would need to prove it is not and will not in the future use chemical or biological weapons, and allow impartial observers to verify compliance.

(...)

Some exceptions to the sanctions required under law, or "carve-outs," are being made. Among the exceptions are sanctions related to space flight activity due to United States dependence on the Russian federation in several ongoing space projects, and sale of commercial passenger aviation safety equipment. Foreign assistance to Russia will also continue as a "tool of power and influence," according to a senior State Department official.
State Department officials said they expect [the sanctions] to take effect Aug. 22.

The sanctions, welcomed by the U.K., added to pressure on the ruble that began earlier in the day, when Russian media published the full text of a separate bill proposed by U.S. lawmakers that seeks "crushing sanctions" for election interference. 
US to hit Russia with new sanctions after poisoning former Russian double agent and daughter (ABC News)
Trump administration to hit Russia with new sanctions for Skripal poisoning (NBC News)
Nerve agent victim describes 'oily substance' disguised as perfume that killed his girlfriend when he unwittingly gave it to her as a gift (Business Insider)
Trump administration to impose new sanctions on Russia for nerve agent attack in England (WaPo)
U.S. Sanctions Russia, With More Threatened, for Nerve-Agent Use (Bloomberg Politics)