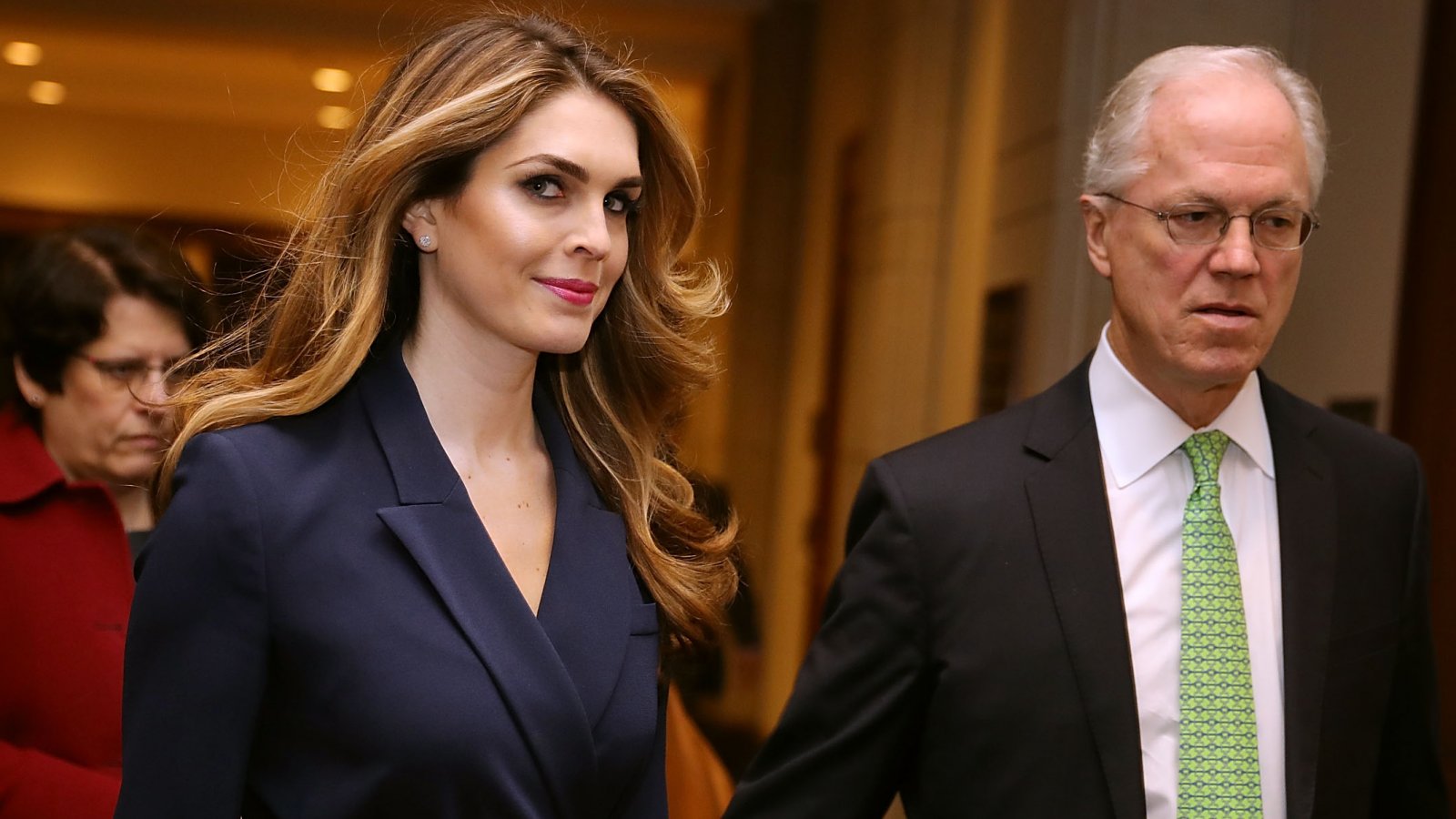 UPDATE 2: The New York Times:
Hope Hicks, the White House communications director, told House investigators on Tuesday that her work for President Trump, who has a reputation for exaggerations and outright falsehoods, had occasionally required her to tell white lies.

But after extended consultation with her lawyers, she insisted that she had not lied about matters material to the investigations into Russia's interference in the 2016 presidential election and possible links to Trump associates, according to three people familiar with her testimony.
Hicks did not formally invoke executive privilege but said the White House had asked her not to discuss anything beyond her time on the campaign. 
"That's an overly broad claim of privilege that I don't think any court of law would sustain. And I think the White House knows that," [House Intelligence Committee Ranking Member Adam] Schiff (D-CA) said. "This is not executive privilege, it is executive stonewalling."
Hope Hicks Acknowledges She Sometimes Tells White Lies for Trump (NYT)
---
UPDATE: CNN's Chief National Security Correspondent:
#HopeHicks would NOT answer questions about her role in drafting the misleading statement last year about 2016 Trump Tower meeting with Russians - @RepAdamSchiff just now

— Jim Sciutto (@jimsciutto) February 28, 2018
---
White House Communications Director Hope Hicks met with the House Intelligence Committee behind closed doors on Tuesday but, much like her former colleagues Steve Bannon and Corey Lewandowski, refused to answer the full range of questions asked. 
Hicks said she was acting on instructions from the White House when she refused to answer questions covering her time on the post-election transition and in the West Wing, committee members said. It is unclear whether President Donald Trump officially authorized her to invoke executive privilege on his behalf, a step some lawmakers believe he must take to make such a claim valid.
Several hours into her scheduled testimony before the House Intelligence Committee, White House communications director Hope Hicks broadened the scope of her testimony to include some topics within the transition, Rep. Tom Rooney, R-Florida, said. For most of the morning, Hicks had only responded to questions related to her time on the Trump campaign.

The slightly expanded range of questioning had to do "with what she testified in the Senate and what was fair for the House to be able to ask," Rooney said.
When Steve Bannon refused to cooperate with the Intel Committee's inquiry on February 5th, lawmakers issued him a subpoena on the spot. They do not appear to be taking the same approach with Hicks.
...[B]y early afternoon no such action had been taken to compel Hick's fuller testimony. Rep. Peter King (R-NY) made clear the intelligence panel views Hicks differently than Bannon because she still serves in the administration.

Rooney declined to say if Hicks coordinated her responses with the White House during the interview. He said he was satisfied with her responses and that no subpoena threat had been issued to extract more testimony.

(...)

King said Republicans spent time during the hearing correcting "unfair questions" posed by Democrats. He and Rooney declined to elaborate on what questions might have been at issue.
CBS:
The committee wants to hear from Hicks on any contact Trump campaign members might have had with Russian intermediaries. Members were also interested in Hicks' knowledge of the White House's initial statement, drafted aboard Air Force One, in response to press reports of a June 2016 Trump Tower meeting between Russians and Trump campaign officials. 

Hicks' own role in responding to reports of the meeting has also been under scrutiny. According to a report in the New York Times, a former spokesman for President Trump's legal team, Mark Corallo, planned to tell Mueller's team that Hicks said on a conference call that emails written by the President's son, Donald Trump, Jr., about the Trump Tower meeting, "will never get out." 

In a statement at the time, Hicks' lawyer, Robert P. Trout, strongly denied Corallo's allegation. 
Hope Hicks draws line on Russia testimony (Politico)
Hope Hicks' testimony expands, slightly, to cover some transition topics (CBS News)