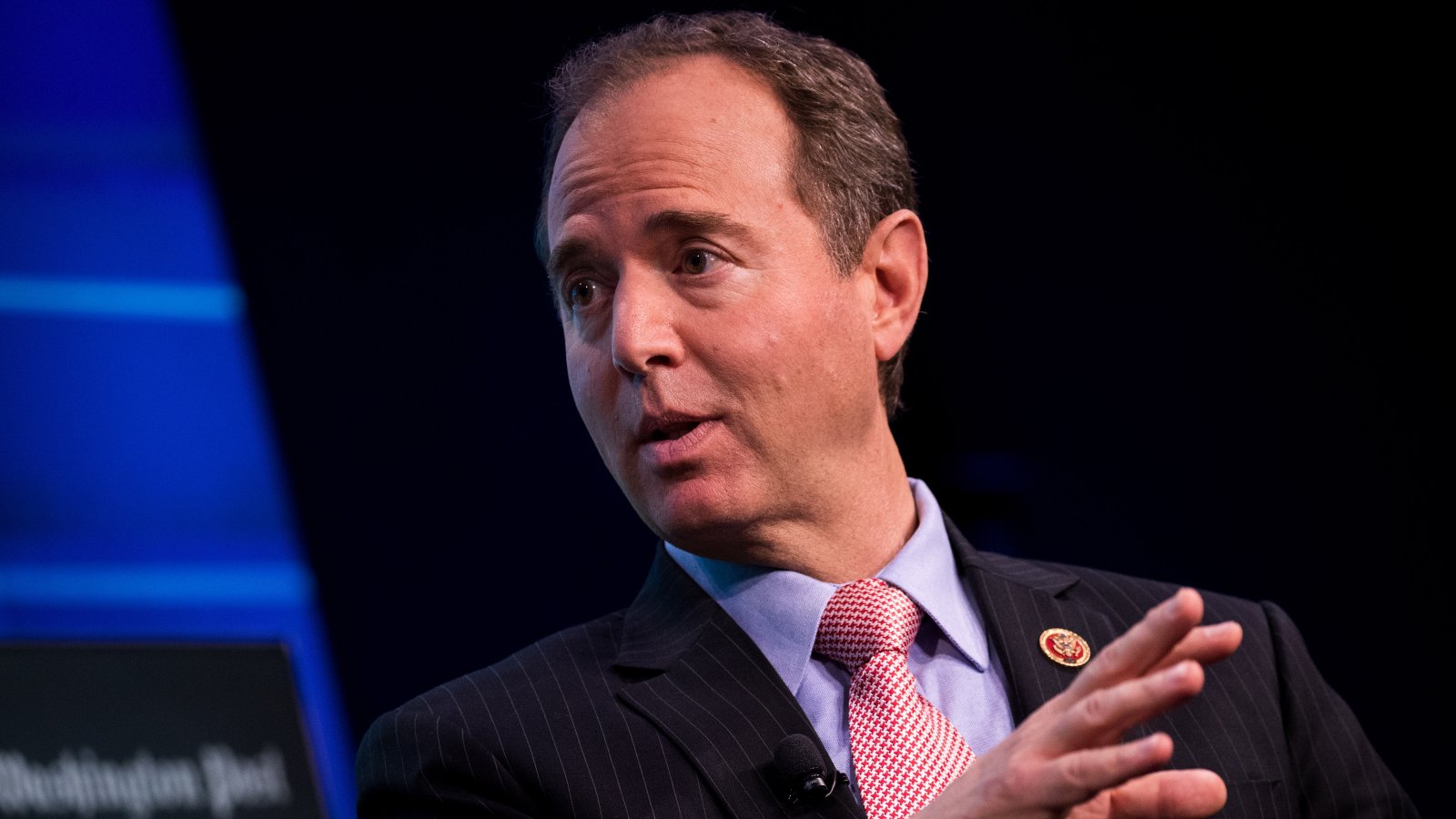 Rep. Adam Schiff (D-CA), the ranking Democrat on the House Intelligence Committee, told reporters Wednesday morning he believes there already is enough information in the public domain to show collusion between Russia and the Trump campaign, and that behind closed doors, he has seen evidence that also could point to charges of obstruction of justice and money laundering. 
He said: "There is certainly an abundance of non-public information that we've gathered in the investigation. And I think some of that non-public evidence is evidence on the issue of collusion and some … on the issue of obstruction."
"There is already, in my view, ample evidence in the public domain on the issue of collusion if you're willing to see it," Rep. Adam Schiff, D-Calif, told reporters at a newsmaker breakfast hosted by the Christian Science Monitor. "If you want to blind yourself, then you can look the other way."
Schiff walked through some of that public evidence, including George Papadopoulos' plea to lying to FBI about knowing Russians had dirt on Hillary Clinton; the June 9, 2016 Trump Tower meeting; the July 2017 misleading statement about that June 2016 meeting; Trump's public call for Russia to hack Clinton's emails while allegedly knowing Russians already had dirt on her; and Michael Flynn's lying to the FBI about his conversations with Russians. 
"All of this is evidence of collusion," said Schiff, a former federal prosecutor. "Now, I've never said that there was proof beyond a reasonable doubt. That's for Bob Mueller to decide. But to say there's no evidence of collusion, you'd have to ignore all this."

"If this were a trial on the issue of did the Trump campaign conspire with the Russians to interfere or violate U.S. election laws by providing help to the Trump campaign, if this were a trial on that conspiracy charge...all of that evidence would come in as evidence of collusion," Schiff said.
Schiff ... added on Wednesday that the intelligence committee had also seen evidence pointing towards money laundering involving Trump's circle, but had been hindered by the partisan deadlock that has paralysed its investigation of Russian interference in the 2016 election.

He said: "It is a tried and true maxim. As a former prosecutor, you follow the money. We have not been able to adequately follow the money. And I think the allegations on money laundering are credible enough that we ought to, in the exercise of due diligence, see if this was one of the other vectors of the Russian active measures campaign."

He added: "We know that in other places they use money laundering as a way of entangling people, as a way of compromising people. To me that is far more potentially compromising than any salacious video would be."

This refers to the possible existence of a compromising video of Trump in Moscow, allegedly held by Russian intelligence and first referenced last year in the dossier compiled by former British intelligence officer, Christopher Steele.
Schiff explained the role his committee is supposed to be fulfilling as there are multiple ongoing Russia investigations.
[I]t is up to the House panel "to tell the country as much as we can about what we have been able to learn," Schiff said.
Even if Mueller determines that he can't file criminal charges of conspiracy, the committee should inform people of any "unpatriotic" or "immoral" actions, even if they weren't illegal, Schiff said.

"It's not fine to work with a foreign power even if there is no violation of law involved," he said.
He also weighed in on what both tech companies and government officials should be doing now to protect our democracy from ongoing Russian interference.
"What we really need is a fast response from the social media companies when they identify foreign meddling. We also need to make sure that the social media companies get timely information from the intel[ligence] community when the intel community has identified actors that are abusing their platforms," Schiff said.

Most of all, he argued, it required political will from the White House, in light of Tuesday's testimony that intelligence chiefs have been given no orders from the presidency on a strategy to counter Russian interference.

"Probably the most significant thing that we can do to protect ourselves in 2018 requires a couple of things. It requires the commander in chief to decide this is a priority and to instruct all of its relevant cabinet officials to develop a game plan to protect against foreign interference in our elections," Schiff said. "It requires that we develop a nonpartisan, bipartisan consensus that if a foreign power meddles again we will all reject their interference no matter who it helps or who it hurts."
House Russia investigation has 'abundance' of evidence against Trump, says top Democrat (The Guardian)
Adam Schiff: There is 'ample evidence' of collusion between Trump campaign, Russians (USA Today)