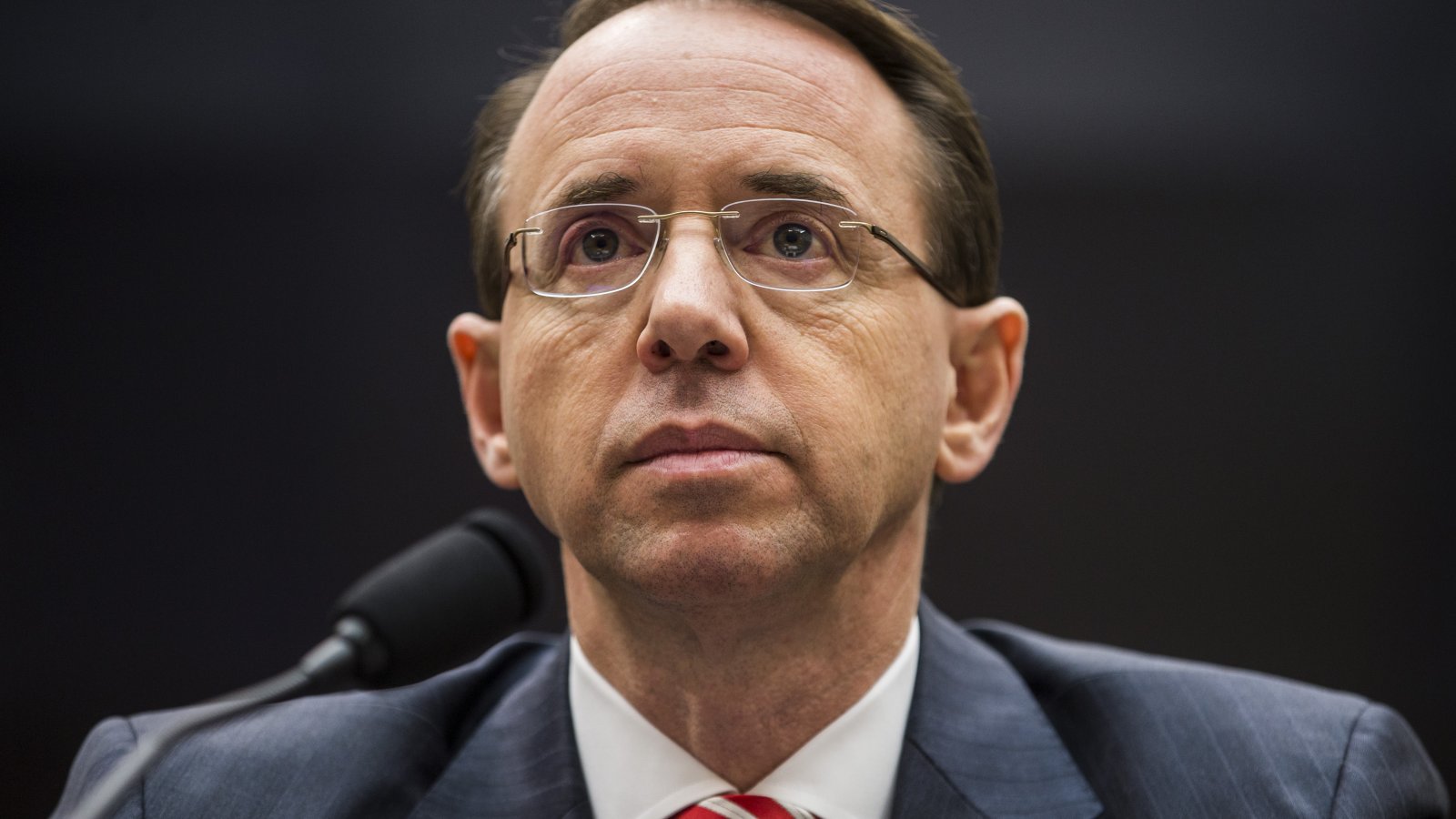 Deputy Attorney General Rod Rosenstein appeared before the House Judiciary Committee Wednesday to answer questions related to Special Counsel Robert Mueller's investigation into Russian interference in the 2016 election. Rosenstein appointed Mueller and retains oversight of the ongoing probe.
CNN:
Deputy Attorney General Rod Rosenstein told the House Judiciary Committee on Wednesday he has seen no reason to fire Mueller thus far.

"If there were good cause, I would act. If there were no good cause, I would not," Rosenstein told the committee. 

When asked by the committee's top Democrat, Rep. Jerry Nadler, if he's seen a cause to fire Mueller, Rosenstein responded: "No."

And later when asked by another member of the committee if President Donald Trump has asked him to remove Mueller from the investigation, he said no one has asked him to do that.

(...)

GOP Rep. Lamar Smith asked Rosenstein about Mueller asking for clarification about the scope of his investigation, whether Mueller may be "casing too wide of a net" in what he's looking into.

"There are a lot of media stories speculating about what the special counsel may or may not be doing," Rosenstein responded. "I know what (Mueller is) doing. I'm appropriately exercising my oversight responsibilities. So I can assure you that the special counsel is conducting himself consistently with our understanding about the scope of his investigation."
Even as Republican lawmakers confronted the deputy AG about recently revealed political text message exchanges between two FBI Agents who are no longer a part of the investigative team, Rosenstein defended Mueller's professionalism in handling that particular issue and the Russia probe in general.
Rosenstein said that he had discussed issues related to political bias with Mueller, but the deputy attorney general believed that Mueller was "ensuring" that such personal views were not influencing the investigation.  "If I thought he (Mueller) was doing something inappropriate, I would take action," Rosenstein said.

(...)

In an animated exchange with Rosenstein on Wednesday, Rep. James Jordan, R-Ohio, said the communications had undermined public confidence in Mueller's inquiry and required the appointment of a second special counsel to review the matter.
"This guy (Strzok) thought he was a super agent – the James Bond at the FBI," Jordan said, referring to Strzok's communications in which he once said that he was "terrified" at the prospect of a Trump presidency.

"I think the the public trust in this thing (Mueller's inquiry) is gone," the congressman said. 

Other GOP lawmakers, including Rep. Trey Gowdy, R-S.C., picked up where Jordan left off, asserting that the FBI agents' communications represented a "clear conflict of interest" that compromised the ongoing investigation.

"Please tell me that when you read these texts your heart fell," Rep. John Ratcliffe, R-Texas said.

Rosenstein countered, pointing out that it was the Justice Department that exposed the contacts and removed Strzok from the team. The communications were discovered during a separate investigation of the department's handling of the Clinton email investigation. 

The deputy attorney general said he was awaiting the conclusion of an investigation led by Justice's inspector general before taking any action. That review is expected to be completed in the next few months.
Watch full hearing (C-SPAN)
Rod Rosenstein tells Congress he hasn't seen "good cause" to fire Mueller -- live updates (CBS News)
Rod Rosenstein: No good cause to fire Mueller (CNN)
Rod Rosenstein, deputy attorney general, sees no reason to dismiss Robert Mueller (USA Today)