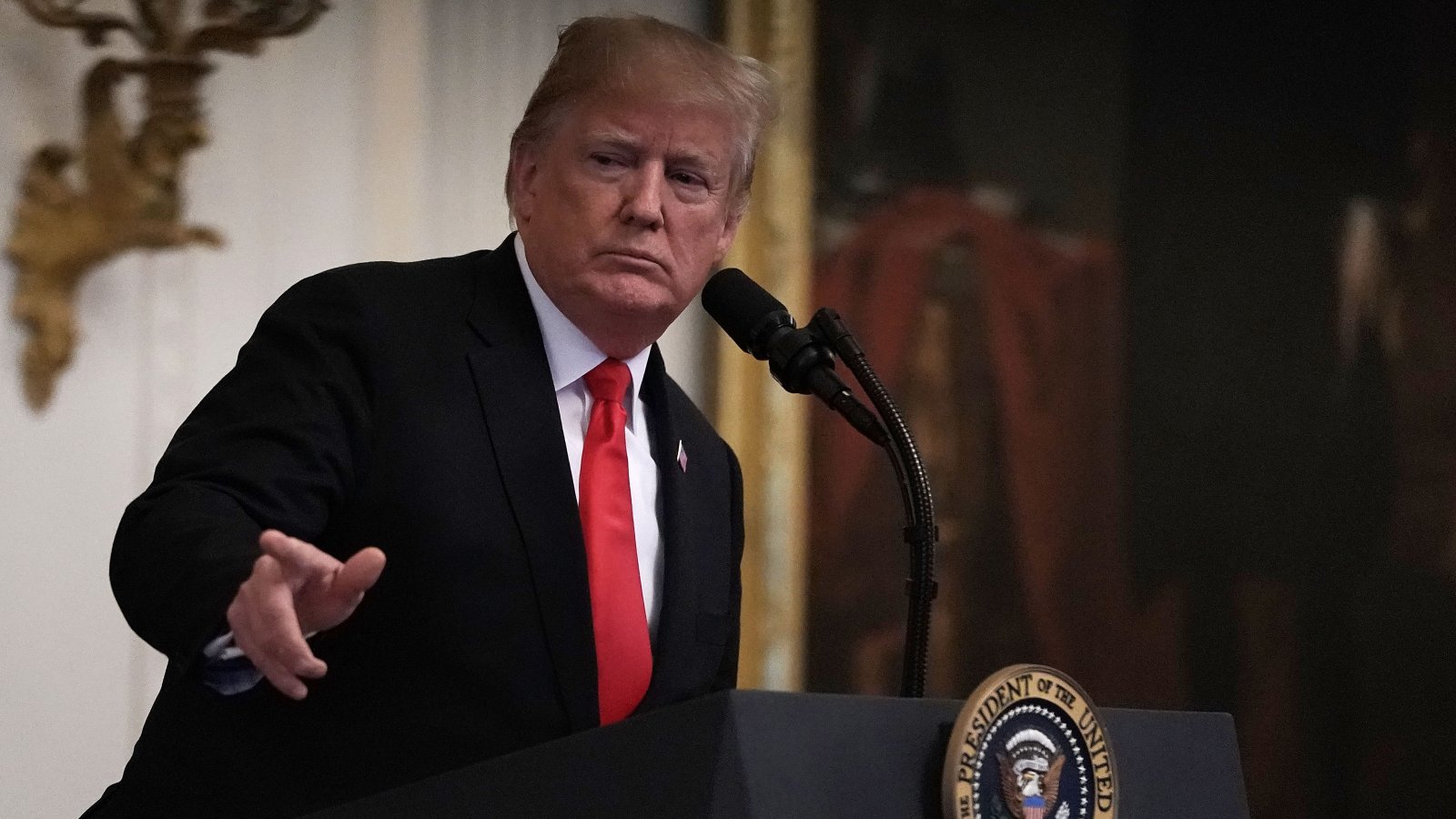 President Trump lashed out on Twitter Monday morning, attacking the Mueller probe, responding to new Michael Cohen-related information, and praising Roger Stone. 
Read from the bottom up:

Cohen's lawyers submitted a sentencing memo late Friday night asking the president's former personal attorney and fixer spend no time in prison for his admitted crimes. 
CNN: 
Cohen's attorneys argued that his cooperation with multiple investigations, including the special counsel's Russia probe, and the impact and suffering on Cohen and his family merits avoiding jail ... 
The filing also adds more information as to the extent Cohen kept Trump informed of Trump Tower Moscow developments during the 2016 campaign.
"In fact, Michael had a lengthy substantive conversation with the personal assistant to a Kremlin official following his outreach in January 2016, engaged in additional communications concerning the project as late as June 2016, and kept Client-1 apprised of these communications," the lawyers wrote. Trump is referred to as "Client-1" throughout the filing.
When news of the Trump Tower Moscow proposal broke into the open in 2017, Cohen was called to Capitol Hill to explain his role in it and other Russia-related matters. Cohen admitted in court Thursday he lied to lawmakers about the extent of his and Trump's involvement.

Cohen told Congress the Moscow project was dead by January 2016, when in fact it was still alive—including discussions about Trump and Cohen traveling to Russia for it—until June 2016.

Cohen's lawyers said this misleading testimony was prepared last summer while Cohen "remained in close and regular contact with White House-based staff and legal counsel" to Trump.
CNN: 
The details were part of a sentencing memo filed with the federal court in Manhattan, where Cohen will be sentenced on December 12 in two separate criminal cases. In addition to admitting he lied to Congress, Cohen pleaded guilty to eight criminal charges brought on by the US Attorney's Office for the Southern District of New York in August, including tax fraud, making false statements to a bank and campaign finance violations relating to hush-money payments made to women alleging affairs with Trump. As part of his plea deal with the US attorney's office, Cohen faces 46 to 62 months in prison.

Cohen's lawyers Guy Petrillo and Amy Lester asked for the cases to be consolidated so Cohen could be sentenced for all of his crimes at once. They're also seeking leniency for Cohen, saying that he has cooperated extensively, amid intense public pressure from Trump, who has called the investigation a "witch hunt," and will agree to cooperate in the future. 

In the filing, his attorneys write that Cohen has had seven voluntary interviews with the special counsel and continues to make himself available as needed. Cohen's attorneys said he declined a traditional cooperation agreement because he wanted to be sentenced as scheduled so he can "begin his life virtually anew."

They said Cohen is also cooperating with prosecutors from the US attorney's office "concerning an ongoing investigation," the New York state attorney general's office's civil lawsuit against the Trump Foundation and state tax authorities. 
Cohen's lawyers say their client broke the law repeatedly out of loyalty to Trump. They argue for leniency in light of the troubles he is experiencing in the aftermath of his cooperation. 
The filing doesn't go so far as to say there was coordination between Trump's legal team and Cohen on what Cohen would tell Congress, but it says the campaign finance and false statement allegations are addressed together "because both arose from Michael's fierce loyalty to Client-1. In each case, the conduct was intended to benefit Client-1, in accordance with Client-1's directives."

(...)

"Nearly every professional and commercial relationship that he enjoyed, and a number of long standing friendships have vanished," it reads.

Cohen, the filing says, could have "continued to hold the party line, positioning himself perhaps for a pardon or clemency," but instead, "he took responsibility for his own wrongdoing and contributed and is prepared to continue to contribute to an investigation that he views as "thoroughly legitimate and vital." 

Cohen, the lawyers argue, should be commended for his cooperation "in the context of this raw, full-bore attack by the most powerful person in the United States."
As for Roger Stone, President Trump was responding to Stone's remarks on "This Week" Sunday affirming his commitment to the president. 
When asked about his past loyalty pledges to the president, Stone said, "There's no circumstance under which I would testify against the president, because I'd have to bear false witness against him. I'd have to make things up and I'm not going to do that."

And on whether or not he expects Trump to pardon him if he was indicted or convicted in the probe, Stone told ABC News, "I've had no discussion regarding a pardon."
Michael Cohen's lawyers ask for no prison time for their client in sentencing memo (CNN)
Cohen: Trump Knew I Called Kremlin for Help With Trump Tower Moscow (Daily Beast)
Emails about WikiLeaks publisher Julian Assange being 'mischaracterized': Roger Stone (ABC News)