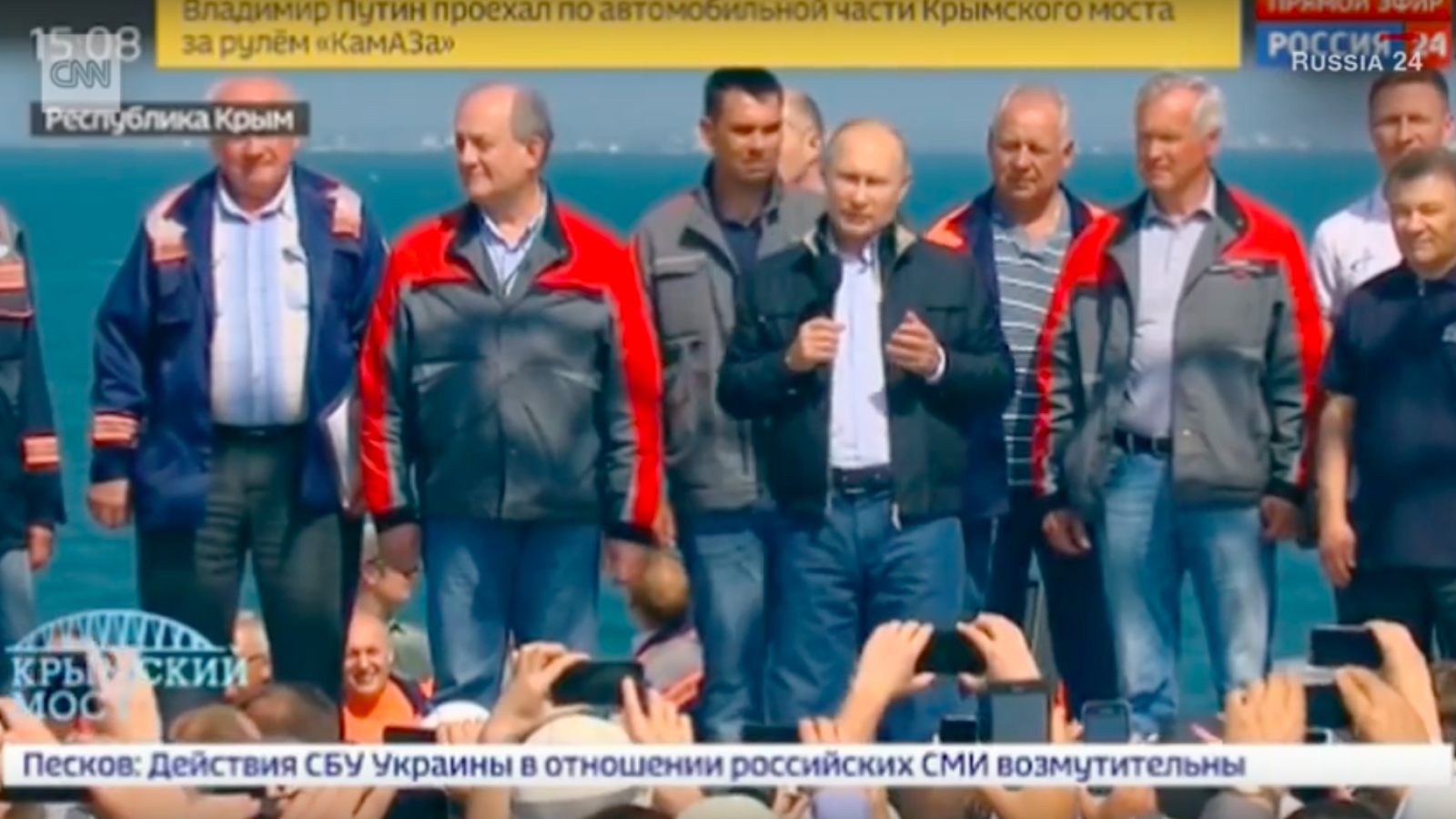 Russian President Vladimir Putin opened a $4 billion bridge connecting Russia and Crimea Tuesday, a move the E.U. condemns as "another violation of Ukraine's sovereignty and territorial integrity by Russia."
Putin, clad in jeans and a jacket, walked on the Russian end of the 12-mile-long, four-lane bridge alongside the business mogul who built it — Arkady Rotenberg, the president's former judo partner. Then Putin took the wheel and drove over the Kerch Strait of the Black Sea in an orange Kamaz dump truck — manufactured by a state-owned company headed by Sergey Chemezov, Putin's KGB colleague in East Germany in the 1980s. Both Rotenberg and Chemezov are under U.S. sanctions. 

Like many key moments of Putin's presidency, it was a made-for-TV event designed to showcase his resolve and authority.

(...)

Putin annexed Crimea, a Ukrainian peninsula in the Black Sea, in 2014 after claiming that ethnic Russians in the region were threatened by the country's pro-Western revolution. Starting Wednesday morning, up to 40,000 passenger cars a day will be able to cross the bridge, drastically reducing the time it takes Russians to reach Crimea, which until now was accessible from Russia only by plane or ferry. 

Ukraine and the West slammed the bridge opening as illegal.

(...)

"I am confident that the aggressor will not succeed and will bear responsibility in full," Ukrainian President Petro Poroshenko said on Facebook, referring to Russia. "The invaders will need the bridge when they have to urgently leave our Crimea." 

The West and much of the rest of the world do not recognize the annexation as legitimate. But to many Russians, Putin's "return" of the popular vacation destination remains his crowning achievement.

(...)

It also underscored the Putin-centric system of political and economic patronage in Russia. Rotenberg's role as the builder of the bridge showed how Russia's billionaires have been able to leverage their closeness to Putin to further enrich themselves — while also rendering services to the state.
Full story: Putin's bridge to Crimea illustrates his power — and his regime's weak spot (WaPo)