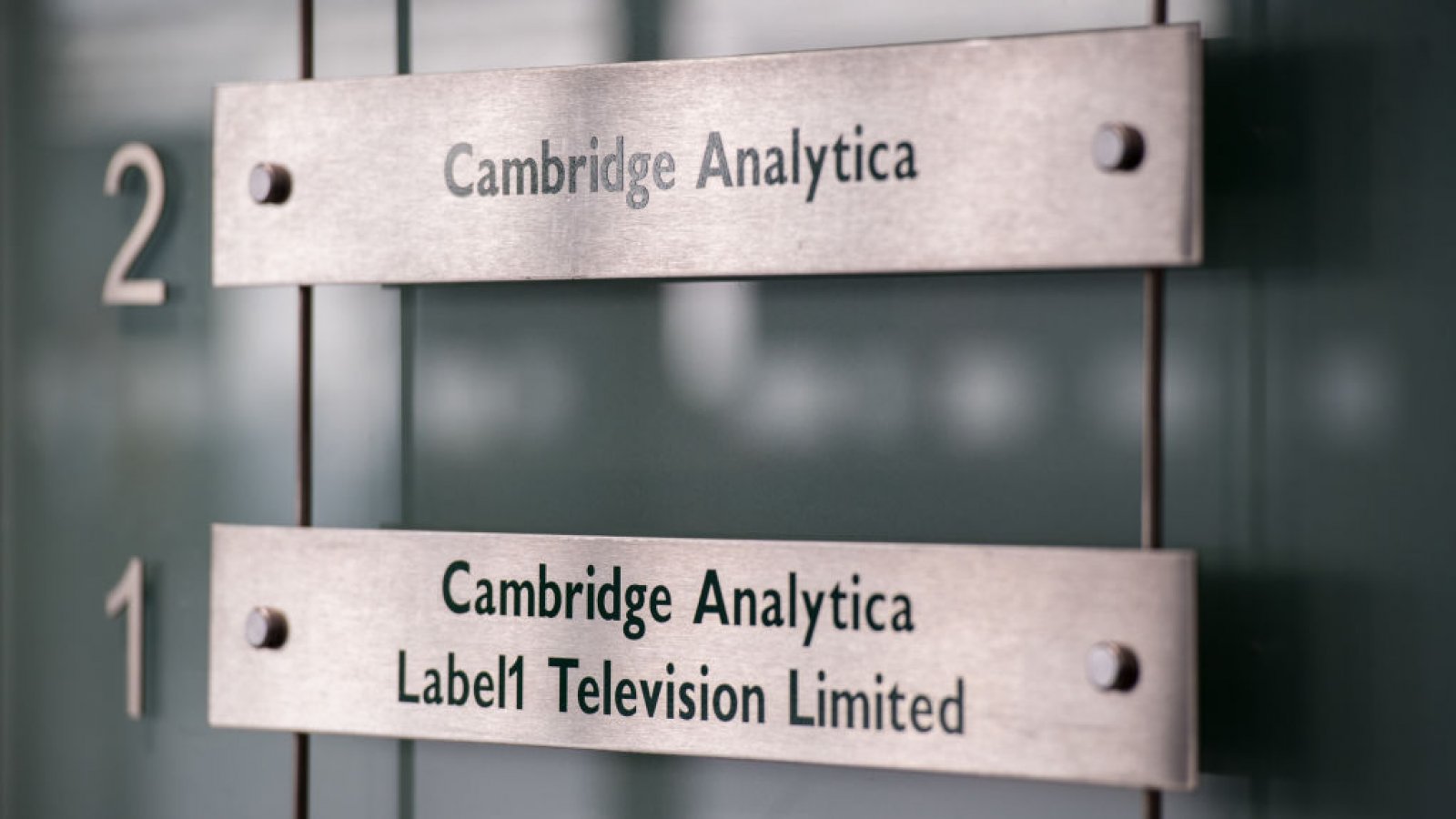 Cambridge Analytica, the Trump campaign data firm in trouble for using harvested Facebook data without users' knowledge or permission and for its CEO's caught-on-camera admission of shady practices, is shutting down.   
On Wednesday, Cambridge Analytica employees learned that its parent company, the SCL Group, was shuttering the business, with American-based workers directed to return their keycards immediately, according to documentation reviewed by Gizmodo.

The news was announced during a conference call led by Julian Wheatland, the current chairman of the SCL Group who was reportedly tapped to take over as Cambridge Analytica's next CEO. Both Cambridge Analytica and SCL Elections will now close their doors.
"The company is immediately ceasing all operations," the data firm announced in a surprise statement on Wednesday, noting that "parallel bankruptcy proceedings will soon be commenced."

(...)

In Wednesday's statement, the company said that the deluge of media reports on its data acquisition were "unfounded accusations," and claimed it was being "vilified for activities that are not only legal, but also widely accepted as a standard component of online advertising."

In a report by Gizmodo's Melanie Ehrenkranz, who broke the story, SCL chairman Julian Wheatland said the decision to shutter the firm came after damage to the company's reputation stemming from its data collection scandal, which led the firm to bleed clients.
However, the executives and funders behind SCL and Cambridge Analytica seem to have set themselves up to forge ahead under a new name. 
Cambridge Analytica has deep ties to the Trump campaign and White House. Former Trump White House Chief Strategist Steve Bannon, who also served as the chief executive of Trump's election campaign, helped launch Cambridge Analytica. Republican billionaire Robert Mercer and his daughter, Rebekah, were Cambridge Analytica's primary source of funding. The Mercers were simultaneously the founders and primary donors to Make America Number 1, a super PAC run by Bannon and Kellyanne Conway, before the two joined the Trump campaign.

Rebekah Mercer and her sister Jennifer joined the board of a new data gathering company called Emerdata on March 16, but it is unclear what their roles will be.

[Former Cambridge Analytica CEO Alexander] Nix was named a director of Emerdata in February, before the Facebook scandal broke — but was terminated on April 13, according to a British government filing. That same day, Alexander Tayler, the former chief data officer at Cambridge Analytica, was named a director of Emerdata.

Wheatland, who conducted the phone call with U.S. staffers informing them of the company's closing on Wednesday, joined as a director of Emerdata on March 19.

In a British government filing declaring her new role as director at Emerdata, Rebekah Mercer listed her correspondence address as 597 Fifth Avenue in Manhattan — Cambridge Analytica's New York office.
Business Insider reported on the curious emergence of Emerdata in March and noted its connection to Trump associate, Erik Prince.
Rebekah and Jennifer Mercer, daughters of hedge fund tycoon Robert Mercer, have just joined the board of a mysterious new company set up by executives at scandal-hit political research firm Cambridge Analytica. 

According to public filings at Britain's Companies House, Emerdata was incorporated in August 2017 and the Mercers were appointed to its board on March 16 this year.

(...)

It isn't clear what Emerdata does, though the company is listed under "data processing, hosting, and related activities." It shares an address in Canary Wharf with Cambridge Analytica's parent, SCL Group.

(...)

Another notable company director is Johnson Chun Shun Ko, the deputy chairman of Frontier Services Group. 

Frontier is a private security firm which mostly operates in Africa and is currently chaired by US businessman and prominent Trump supporter Erik Prince. Prince is best known for founding private military group Blackwater US and is the brother of US education secretary Betsy DeVos.

Prince also donated to the Make America Number 1 PAC, a Mercer-funded group that supported Donald Trump's presidential campaign.

Make America Number 1 paid Cambridge Analytica $1.5 million in 2015 and 2016. During undercover filming by Britain's Channel 4 News, CA executives revealed how Make America Number 1 was used to seed online attack ads against Hillary Clinton.
Cambridge Analytica Is Shutting Down [Updated] (Gizmodo)
The power players behind Cambridge Analytica have set up a mysterious new data company (Business Insider)
Cambridge Analytica to close down after Facebook data scandal (NBC News)