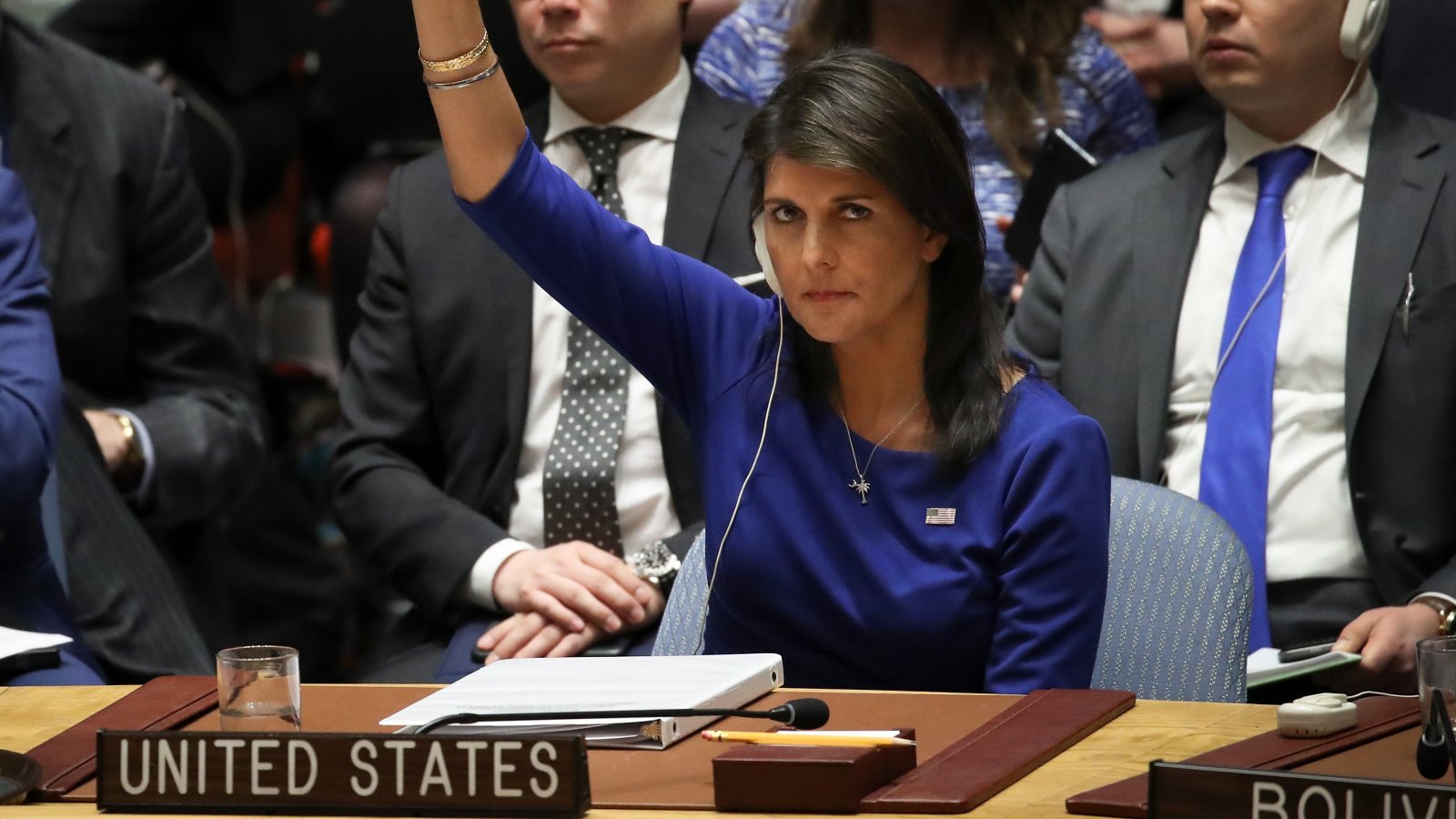 UPDATE: CNN's Jim Acosta reports the Trump administration notified Russia it would not be implementing new sanctions before it told Nikki Haley, President Trump's own ambassador to the United Nations. 

---
United States Ambassador to the United Nations Nikki Haley is making it very clear she will not be thrown under the bus after the administration tried to blame her for announcing new Russia sanctions President Trump decided not to implement. 
NYT: 
The rift erupted into open conflict on Tuesday when a White House official blamed Ms. Haley's statement about sanctions on "momentary confusion." That prompted her to fire back, saying that she did not "get confused." The public disagreement embarrassed Ms. Haley and reinforced questions about Mr. Trump's foreign policy — and who speaks for his administration.

At the very least, the episode highlighted the crossed circuits over foreign policy in an administration with no secretary of state, an increasingly marginalized White House chief of staff and a national security adviser who has only been on the job for a week and has pushed out many of the senior national security officials in the White House but has yet to bring in his own team.

(...)

According to several officials, the White House did not inform Ms. Haley that it had changed course on sanctions, leaving her to hang out alone.
When the president's chief economic advisor attempted to paint Trump's refusal to follow through on sanctions as Haley's mistake, she publicly fought back. 
"She got ahead of the curve," Larry Kudlow, the president's national economics adviser, told reporters at a briefing in Florida before Mr. Trump welcomed Prime Minister Shinzo Abe of Japan to his Mar-a-Lago estate. "She's done a great job. She's a very effective ambassador, but there might have been some momentary confusion about that."

Ms. Haley took umbrage. A few hours later, she spoke with Dana Perino of Fox News, who quoted her response on air: "With all due respect, I don't get confused."

Mr. Kudlow then called Ms. Haley to apologize. "She was certainly not confused," Mr. Kudlow told The New York Times by telephone. "I was wrong to say that — totally wrong."

He added: "As it turns out, she was basically following what she thought was policy. The policy was changed and she wasn't told about it, so she was in a box."

The argument that Ms. Haley had merely gotten out ahead of a decision was undercut by the fact that the White House itself had sent out word to surrogates on Saturday — the day before her remarks — letting them know that it had already decided to take punitive action against Moscow.

"We also intend to impose specific additional sanctions against Russia to respond to Moscow's ongoing support for the Assad regime, which has enabled the regime's atrocities against the Syrian people," said a document distributed by the Republican National Committee that was titled "White House talking points."
Haley's tendency to talk tough when it comes to Russia does not sit well with the president. 
Beyond the immediate disconnect, though, is a deeper strain between Mr. Trump and Ms. Haley, according to administration officials and other insiders. Ms. Haley has been perhaps the most hawkish voice on Russia on a team headed by a president who has emphasized his fervent desire for friendship with President Vladimir V. Putin.

(...)

At one point recently, he saw Ms. Haley on television sharply criticizing Russia over its intervention in Ukraine. "Who wrote that for her?" Mr. Trump yelled angrily at the screen, according to people briefed on the moment. "Who wrote that for her?"
Sanctions Flap Erupts Into Open Conflict Between Haley and White House (NYT)