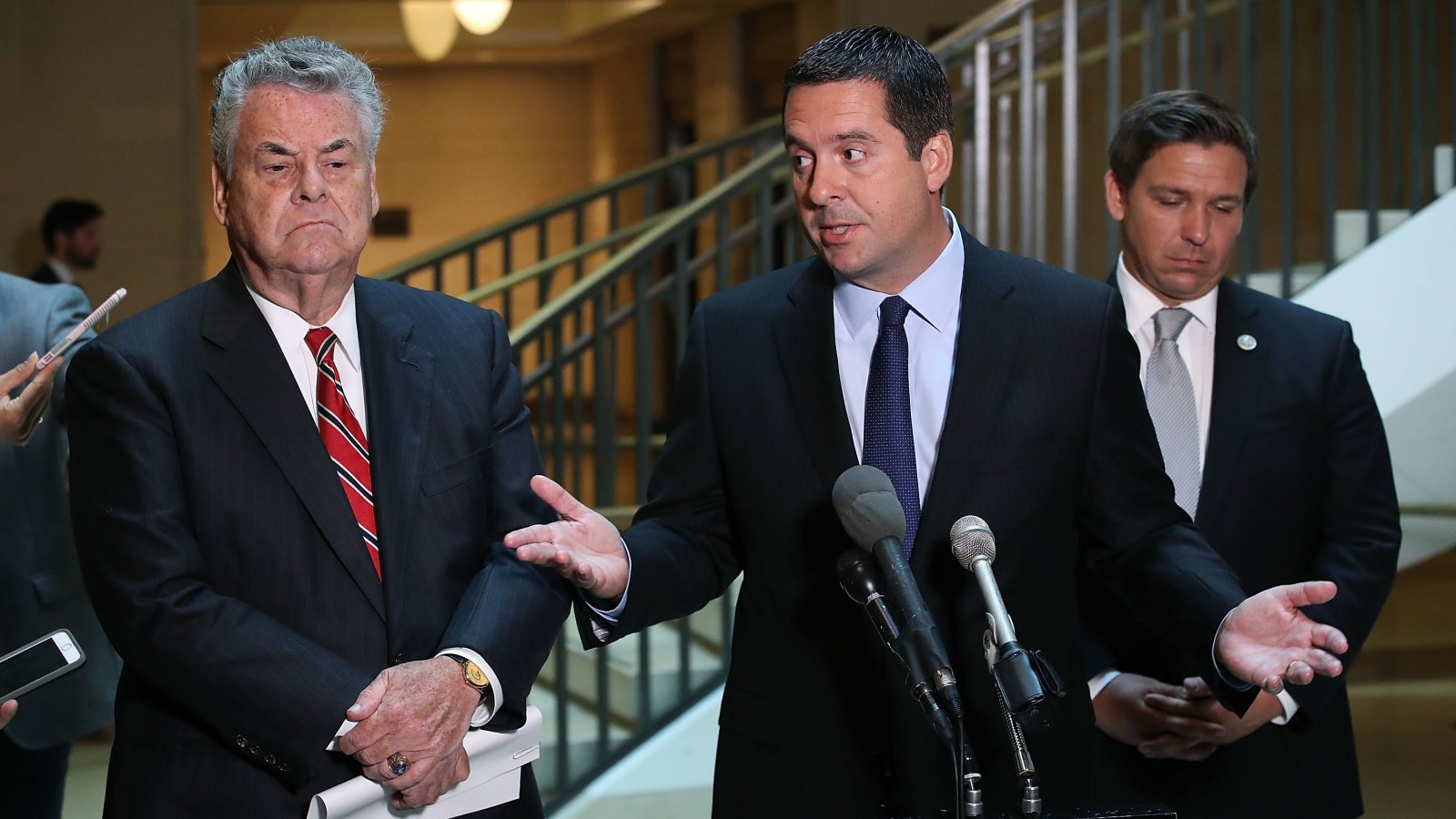 The House Intelligence Committee Republican majority voted Thursday to end its Russia investigation and start the process of having its final report declassified. A Summary Table of Findings reveals what that report will say, the most troubling of which is included in the following section which completely exonerates the Trump campaign based on no concrete evidence.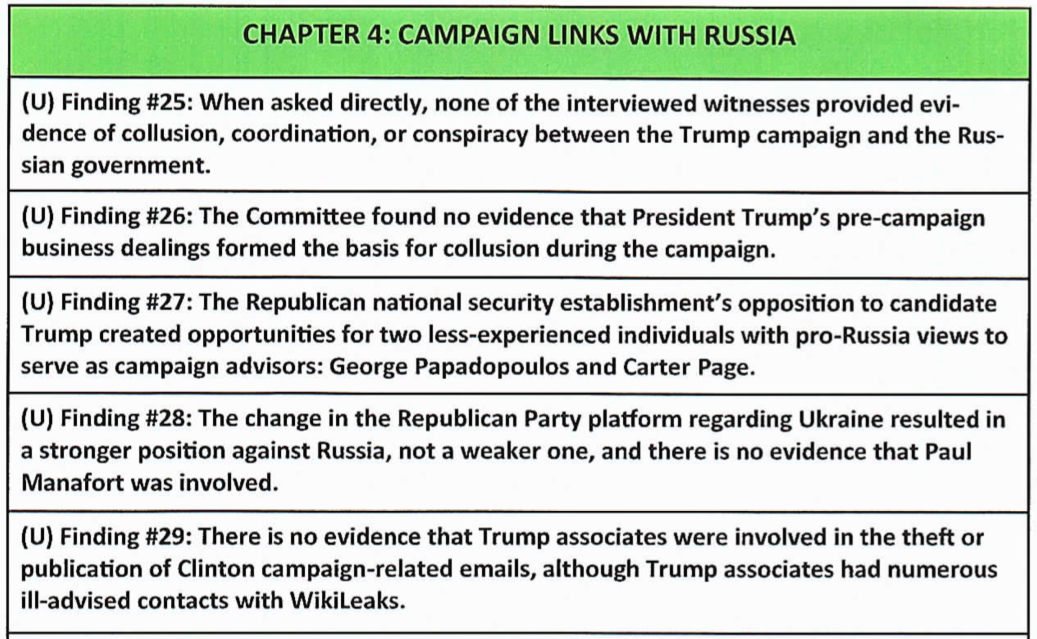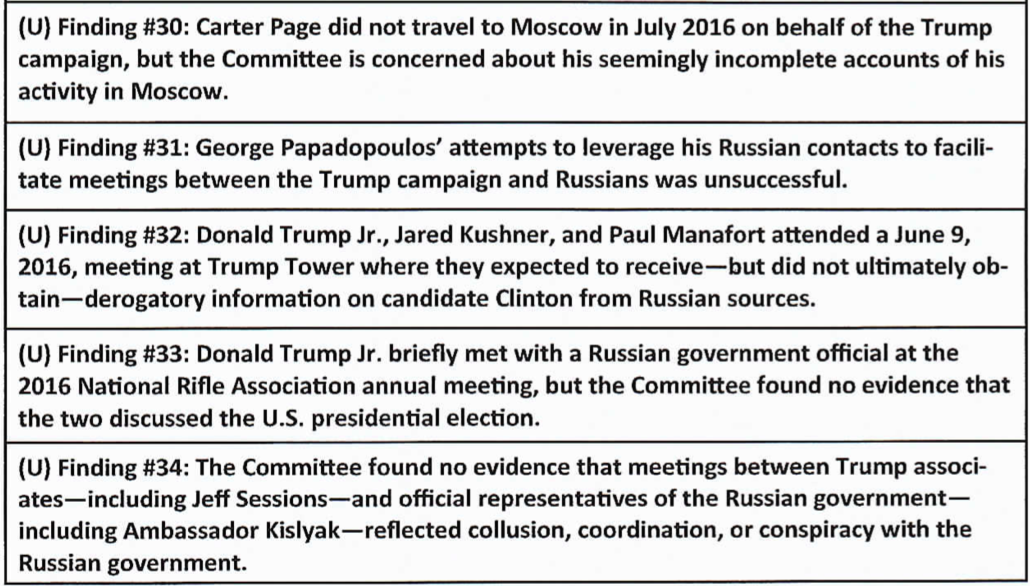 Chairman Devin Nunes (R-CA), a member of the Trump transition team who actively had been working to derail the committee's probe from the beginning, released a statement claiming the report is a full accounting of what the committee uncovered.
"This report, based on 70-plus witness interviews and more than 300,000 documents collected, provides specific findings and recommendations to improve our election security before the mid-term elections. The report, which will include minority views if the minority submits them, presents the comprehensive results of what the Committee has learned during its fourteen-month-long investigation, and will be useful in thwarting any attempts by Russia or other foreign powers to further meddle in U.S. elections."
Intel Republicans concluded that even though investigators uncovered evidence of multiple points of contact between the Trump campaign and Russians, Republicans believe there was no collusion because Trump associates said so. 
NPR:
"When asked directly, none of the interviewed witnesses provided evidence of collusion, coordination or conspiracy between the Trump campaign and the Russian government," according to new documents.

Committee Republicans also found no evidence that Trump's "pre-campaign business dealings formed the basis for collusion during the campaign." 

The panel confirmed several contacts between Trump campaign aides and Russians, as well as communications between people in Trump world and Wikileaks, through which Russian intelligence fenced stolen political communications. 

Republicans concluded those contacts were "ill-advised," but not illegal or improper.

(...)

The intelligence panel's top Democrat, Rep. Adam Schiff of California, called the report a whitewash and said Republicans have blocked avenues of investigation that might have uncovered facts unpalatable to them and Trump.
Schiff (D-CA) released a statement online which also included the transcript of his press availability after the Thursday morning vote. 
"We had approached the Majority well before the issuance of this report to urge them to work with us on a joint report. There was really no interest on their end in doing so, and when it became clear even on things where there should have been overwhelming agreement, such as the Intelligence Community's conclusion that Russia sought to sow discord, to harm Hillary Clinton and help Donald Trump, the Majority made clear that they were going to take issue even with those fundamental conclusions, at least as they pertained to Donald Trump. It was clear that their report was going to be completely political from beginning to end and there really wasn't much to work on in a joint fashion."
Several news outlets picked up on the absurdity of many of the GOP summary findings and were quick to point out the obviously incomplete nature of the investigation. 
The summary said accusations of collusion were further undermined by Russian attempts to establish a "back channel" with the Trump campaign, saying that such an effort wouldn't have been needed because "collusion would have rendered such a 'back channel' unnecessary."
According to the Center for American Progress's Moscow Project, the House committee charged with investigating Russian involvement in the 2016 election obtained either no or incomplete information about 81 percent of the known contacts between Trump officials and Russians, or groups and individuals with strong Russia ties like Wikileaks.

(...)

Another key finding, according to CAP's examination: At least 22 high-ranking Trump campaign officials knew about the contacts during the 2016 campaign and the transition.

(...)

Based on news reports, public statements, witness lists and indictments related to special counsel Robert Mueller's investigation, the CAP report documents at least 70 contacts between the Trump team and Russia-linked operatives, from January 2016 through 2017 as Trump took the oath of office. They include 22 meetings, including Skype calls.

(...)

Particularly glaring oversights, according to the CAP report, include not asking Trump attorney Cohen for documents about a proposed 2016 Trump Tower deal in Moscow and not calling Kushner back for more information about a June 9 meeting at Trump Tower in New York with Russians, including attorney Natalia Veselnitskaya and a former Soviet counterintelligence officer and lobbyist.
The second-ranking Democrat, Jim Himes of Connecticut, said the minority's views on the findings in the Republican report will be announced on Monday.

(...)

One of the key potential outcomes of the committee's hearings, public transcripts of its dozens of closed-door interviews with witnesses, may never surface. Republicans last week reversed earlier plans to release those transcripts, though Democrats say they plan to attach the documents to their final report.
House probe overlooked most Trump-Russia contacts, report claims (NBC News)
GOP Shuts Down House Russia Probe Despite New Revelations (Bloomberg Politics)
House Intel GOP Report: Witnesses Say They Didn't Collude With Russian Interference (NPR)
Nunes Statement on Approval of Russia Report (press release)
Schiff Statement After Committee Republicans Voted to Release Partisan Report (press release)
House Intel Republicans Summary Table of Findings (pdf)