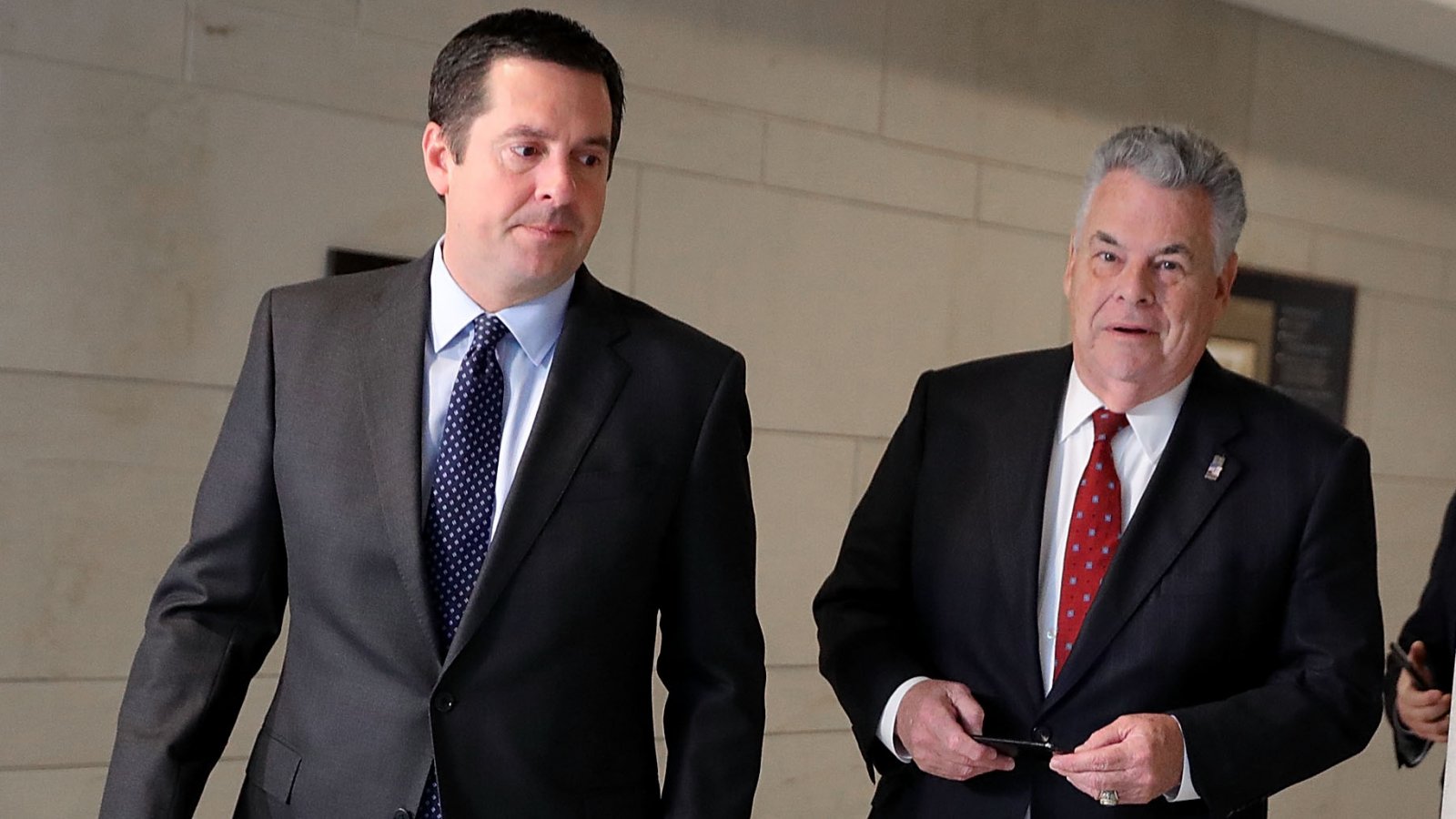 UPDATE: Rep. Adam Schiff (D-CA), top Democrat on the House Intel Committee, has responded. His full statement is linked in his tweet and online here. 
BREAKING: GOP just shut down House Intel investigation, leaving questions unanswered, leads unexplored, countless witnesses uncalled, subpoenas unissued.

If Russians have leverage over the President, GOP has decided that it would rather not know. The minority's work continues: pic.twitter.com/oOf13n75Vo

— Adam Schiff (@RepAdamSchiff) March 12, 2018
Schiff's statement reads, in part, as follows:
"Some will say that we should leave the investigation to Special Counsel Mueller anyway, since he has the resources and independence to do the job. But this fundamentally misapprehends the mission of the Special Counsel, which is to determine whether U.S. laws were broken and who should be prosecuted.  It is not Mueller's job to tell the American people what happened, that is our job, and the Majority has walked away from it. Others may be tempted to say a pox on both houses, and suggest that in a dispute between the parties, both must be equally culpable. But after months of urging the Majority to do a credible investigation, the Minority was put in the position of going along with a fundamentally unserious investigative process, or pointing out what should be done, what must be done, to learn the truth. We chose the latter course."

(...)

On a whole host of investigative threads, our work is fundamentally incomplete, some issues partially investigated, others, like that involving credible allegations of Russian money laundering, remain barely touched. If the Russians do have leverage over the President of the United States, the Majority has simply decided it would rather not know. On the final aspect of our work — setting out the prescriptions for protecting the country going forward — we will endeavor to continue our work, with or without the active participation of the Majority.

"In the coming weeks and months, new information will continue to be exposed through enterprising journalism, indictments by the Special Counsel, or continued investigative work by Committee Democrats and our counterparts in the Senate. And each time this new information becomes public, Republicans will be held accountable for abandoning a critical investigation of such vital national importance."
---
Republicans on the House Intelligence Committee are finished investigating Russian election interference and possible collusion with the Trump campaign, even though piles of stones have been left unturned. 
The GOP members' final report will say the committee found no evidence Russia interfered in the U.S. election to help Donald Trump, which is in direct contrast with the intelligence community's official assessment that Russia did, in fact, meddle to hurt Hillary Clinton and assist the now president. 
From the Director of National Intelligence's January 6, 2017 report: 
We assess Russian President Vladimir Putin ordered an influence campaign in 2016 aimed at the US presidential election. Russia's goals were to undermine public faith in the US democratic process, denigrate Secretary Clinton, and harm her electability and potential presidency. We further assess Putin and the Russian Government developed a clear preference for President-elect Trump. We have high confidence in these judgments.

We also assess Putin and the Russian Government aspired to help President-elect Trump's election chances when possible by discrediting Secretary Clinton and publicly contrasting her unfavorably to him. All three agencies agree with this judgment. 
The Republicans have released a one-page summary of their findings. 
CNN:
Rep. Mike Conaway, the Texas Republican leading the Russia investigation, said Monday that the committee had concluded its interviews for the Russia investigation, and the Republican staff had prepared a 150-page draft report that they would give to Democrats to review on Tuesday morning.

"We found no evidence of collusion, and so we found perhaps some bad judgment, inappropriate meetings," Conaway said. "We found no evidence of any collusion of anything people were actually doing, other than taking a meeting they shouldn't have taken or just inadvertently being in the same building."

Democrats say there are still scores of witnesses the committee should call, and argue that Republicans have failed to use subpoenas to obtain documents and require witnesses to answer questions that are central to the investigation.

(...)

It's widely expected Democrats will draft their own report that argues a case for collusion, as well as spells out all the avenues the committee did not investigate.

In addition to subpoenas and witnesses, Democrats have long raised issues about looking into Trump's finances, something the committee had not probed. Conaway said he saw no "link" between Trump's finances and the committee's investigation, and he did not want to go on a fishing expedition.
Committee Chairman Devin Nunes (R-CA) – who was a member of the Trump transition team and never really recused himself from the Russia investigation – not only regularly denied House Intel Committee Democrats' requests to issue subpoenas but also actively worked to undermine the investigation, divert resources, and attack federal law enforcement officials. 
Democrats and Republicans on the committee have interviewed the same 73 witnesses and viewed the same 300,000-plus documents, according to the tally Conaway gave reporters on Monday. Democrats say there are thousands of pages of documents the committee never procured, and dozens more witnesses they need to call for interviews.

Committee Democrats have said the panel should issue several subpoenas for witnesses who have either ignored the committee's requests to appear or provided incomplete answers during their interviews.

(...)

[Conaway] argued against using subpoenas or stronger measures — including contempt citations — to compel more testimony from witnesses who refused to answer questions about their time in the administration, arguing that Trump might eventually want to invoke executive privilege.

"You use subpoenas when you think you can actually get something from them, and we're not particularly confident that the subpoena process will get us any more information than we had," Conaway said Monday. "We've interviewed everyone we think we need to interview."
On the Senate side, the Intelligence and Judiciary Committees continue to work on their investigations, though the latter is signaling it may be finished soon with at least one key component of the probe. 
Still, only the Senate Intelligence Committee appears to be pushing forward at full speed on its probe, as Senate Judiciary Chairman Chuck Grassley is preparing to release transcripts of the committee's interviews with participants of the June 2016 Trump Tower meeting — a potential sign the committee is done investigating that matter.

The Senate Intelligence Committee is preparing to put out recommendations and hold a hearing on election security this month. Senate Intelligence Chairman Richard Burr has said he's separating out the election security issues for the 2018 primary season while the committee continues to investigate questions about collusion and the 2016 election.
House Republicans reach opposite conclusion from intelligence community (CNN)
House Intelligence Committee to announce they are done with Russia probe interviews (CNN)
READ: 1-page summary of initial Republican findings in the House Russia investigation (CNN)
Republicans find no evidence of collusion or Russian preference for Trump (WaPo)