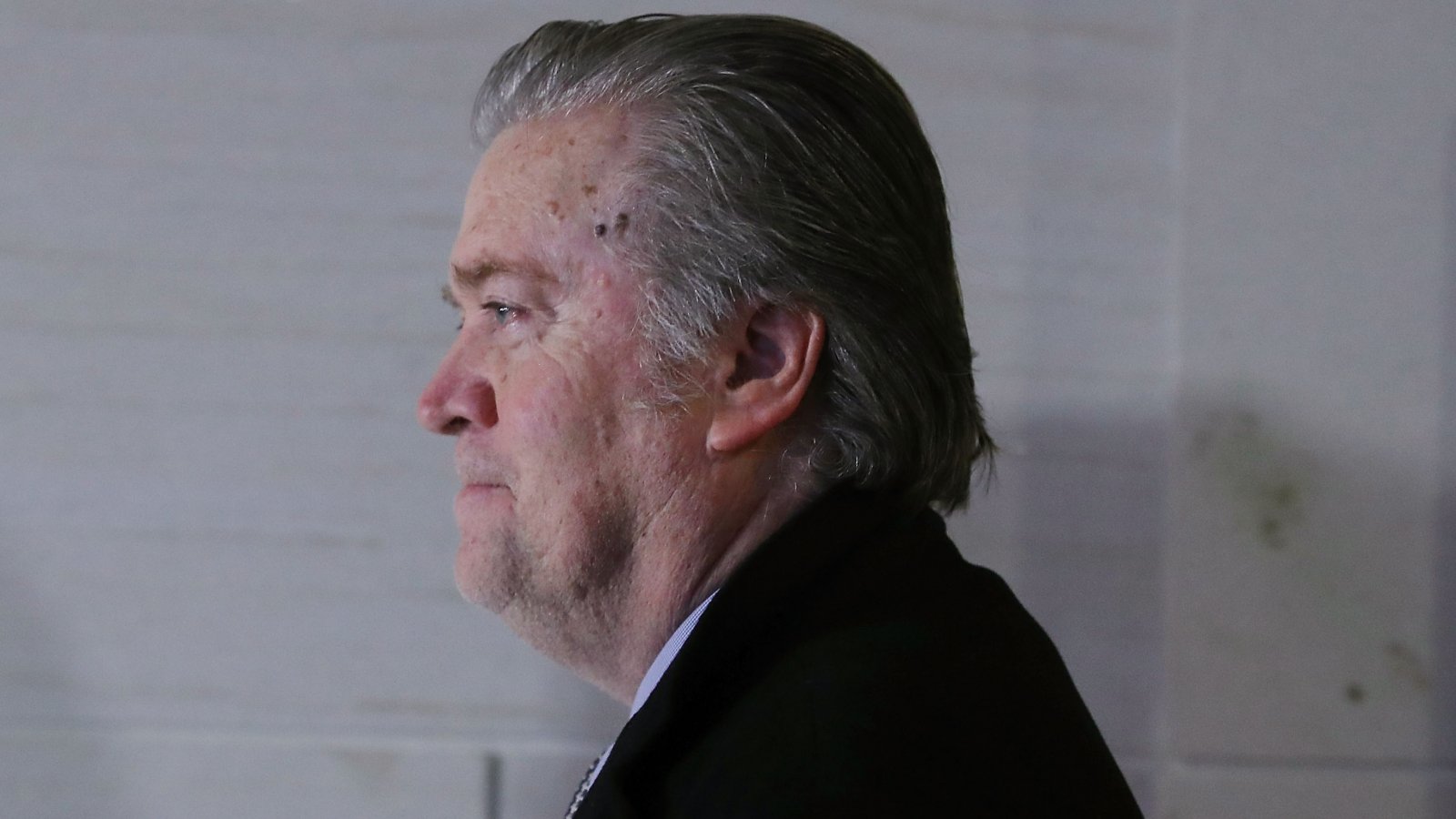 The Associated Press is reporting that Steve Bannon's lawyer was on the phone with someone at the White House during his client's testimony before the House Intelligence Committee Tuesday: 
As lawmakers probed Bannon's time working for President Donald Trump, Bannon's attorney Bill Burck was asking the White House counsel's office by phone during the Tuesday session whether his client could answer the questions. He was told by that office not to discuss his work on the transition or in the White House.

It's unclear who Burck was communicating with in the White House. He is also representing top White House lawyer Don McGahn in special counsel Robert Mueller's investigation into contacts between the Trump campaign and Russia.
A White House source claims the committee made a deal with the White House to limit Bannon's testimony to his short time on the campaign and not delve into his tenure with the transition or the administration.
CNBC:
"That was never conveyed to the minority," Schiff said Tuesday night. "And I think it came as quite a surprise to our entire committee frankly, apart from the majority staffer that was involved in that communication."
While not formally invoking executive privilege, the White House says it is exerting some of its "executive privileges."
CNBC:
"Look, we've been completely cooperative throughout this entire process," Sanders said. "We're going to continue to be cooperative. But we're also going to maintain some of the executive privileges here at the White House."

In essence, the White House is hoping to reap many of the benefits of executive privilege, without President Donald Trump officially asserting the privilege. Formally asserting executive privilege could be embarrassing for the White House, which has insisted it has nothing to hide in the ongoing Russia investigation and that it is cooperating fully.

Rep. Trey Gowdy, R-S.C., one of the Republicans leading the committee's investigation, reacted with exasperation to Bannon and the White House's claims.

"It is the most tortured analysis of executive privilege I have ever heard of," Gowdy said on Fox News. "Executive privilege now covers things before you become the chief executive — which is just mind-numbing and there is no legal support for it."
Bannon's silence may not be an isolated incident.
AP:
Lawmakers were expecting a similar fight Wednesday with Trump's White House as another senior aide, Rick Dearborn, was to appear for a private interview with the committee.

The developments brought to the forefront questions about White House efforts to control what current and former aides tell Congress about their time in Trump's inner circle, and whether Republicans on Capitol Hill would force the issue.

It is unlikely the committee will face the same White House objections with Trump's former campaign manager, Corey Lewandowski, who is also being interviewed Wednesday. He never served in the White House.
AP Sources: WH directed Bannon silence in House interview (AP)
White House official: House intel panel broke an agreement on limiting scope of questions for Bannon (CNBC)