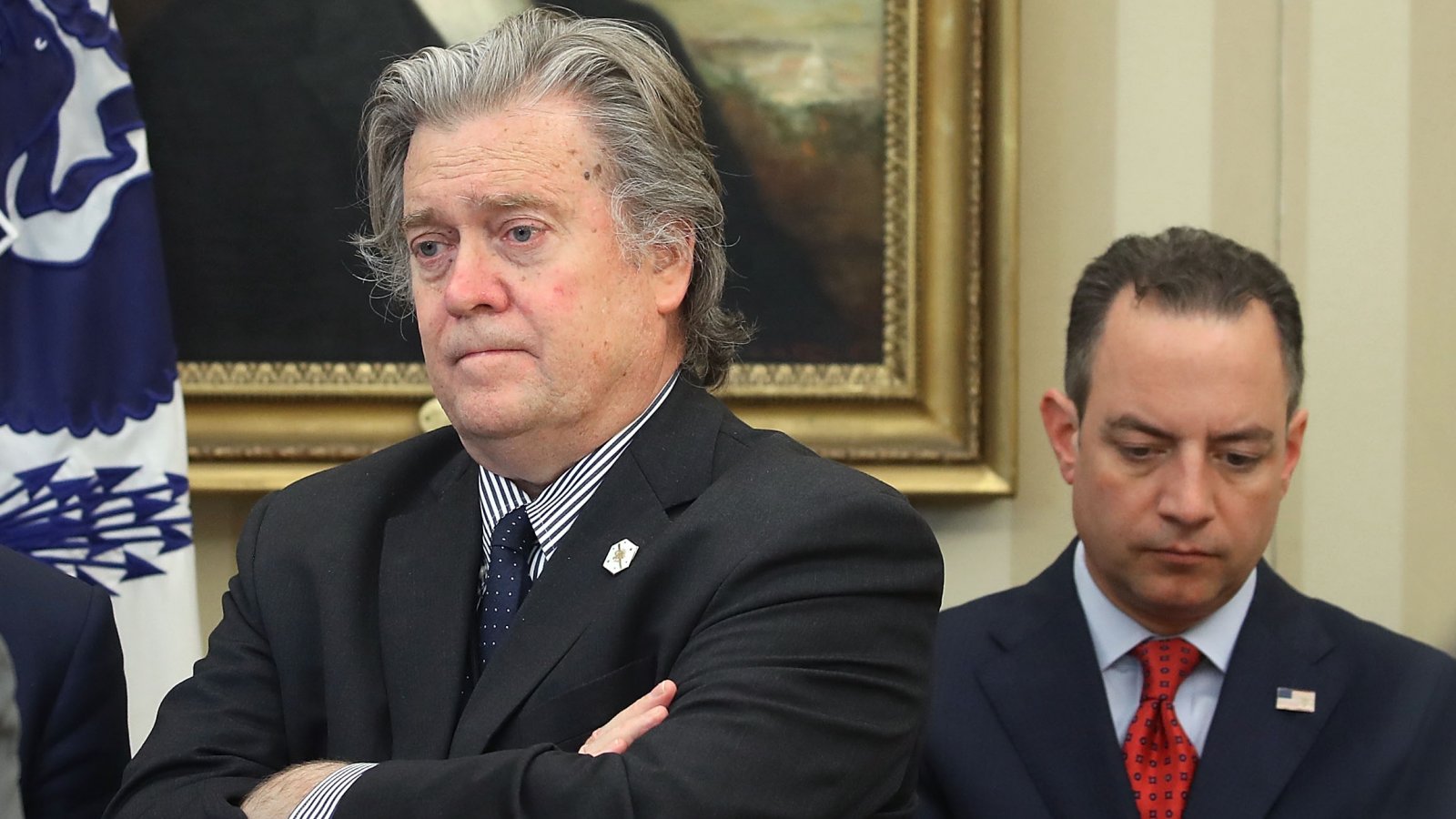 While the White House dictated what questions Steve Bannon should not answer during his House Intelligence Committee testimony Tuesday, Axios – citing four sources – says Bannon made at least one important revelation.
Bannon admitted that he'd had conversations with Reince Priebus, Sean Spicer and legal spokesman Mark Corallo about Don Junior's infamous meeting with the Russians in Trump Tower in June 2016.

(...)

Bannon immediately realized he'd slipped up and disclosed conversations he wasn't supposed to discuss, because they happened while he was chief strategist in the White House. Throughout the rest of the session, committee members — in particular Republican Trey Gowdy and Democrat Adam Schiff — hammered Bannon over the fact that he'd mentioned those conversations but refused to discuss anything else about his time in the White House.

Bannon's lawyer, Bill Burck, told the committee in his opening remarks that Bannon wouldn't answer any questions that relate to his time inside the White House or during the presidential transition. The committee caught him in the slip-up inside the first 90 minutes.
Axios shares other details from inside the closed door hearing, including the following:
Trey Gowdy, who led the Republican questioning, pressed Bannon hard on his description of Don Junior's Trump Tower meeting as "treasonous." ...
Bannon attacked the Republicans running these congressional committees for choosing to investigate the Trump campaign and Russia. He said it was part of an "establishment" plan to try to "nullify" the election result ... 
Throughout the hearing, Bannon kept telling the committee members: "I really want to answer this question," and "I really wish I could answer these questions." That became a sore point with members. They kept asking him why he felt liberated to abandon executive privilege and leak prolifically about the White House to journalists and author Wolff, but wouldn't talk to Congress. 
Full story: Inside the room: What Steve Bannon told Congress yesterday (Axios)