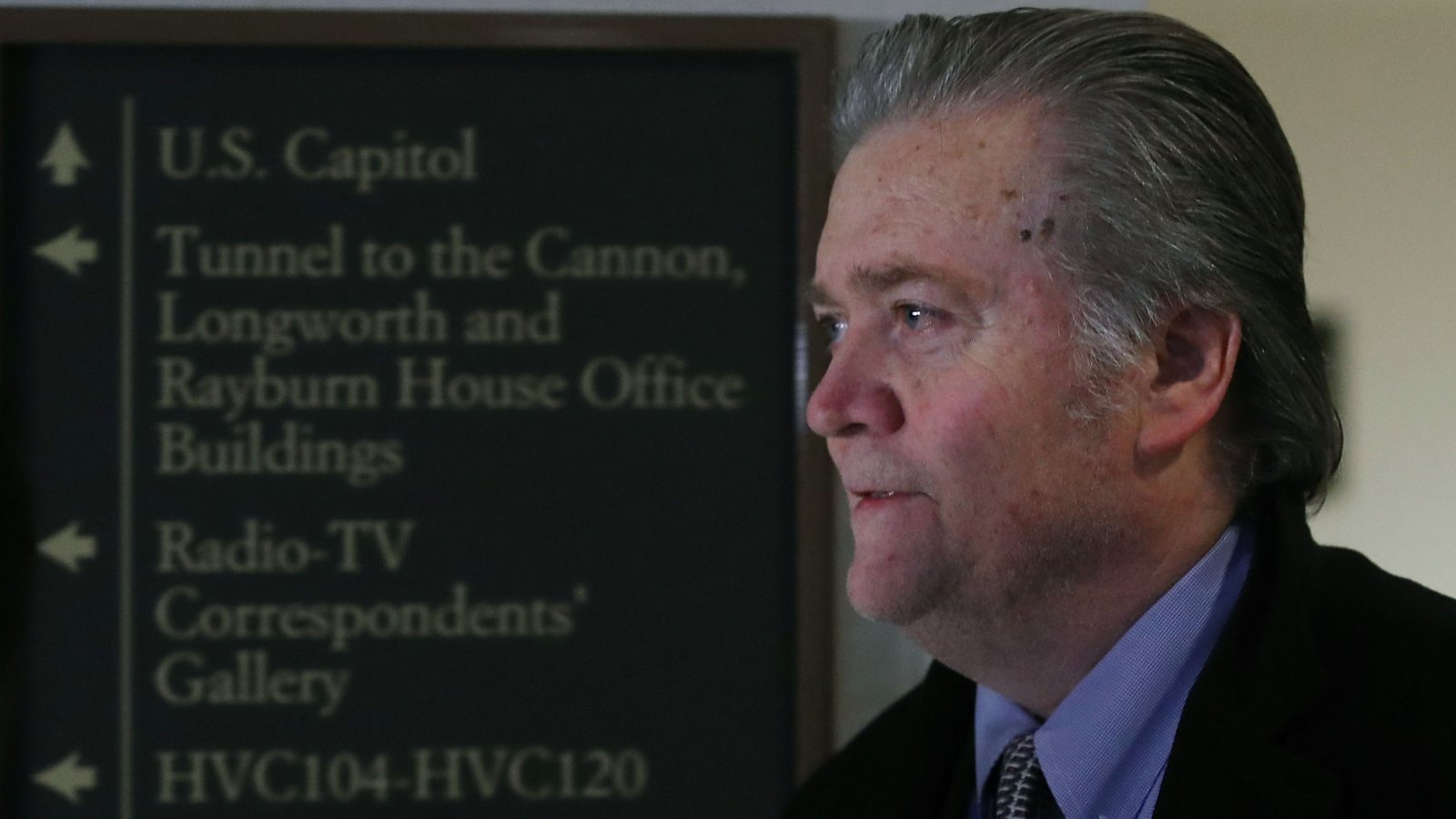 UPDATE 2: Politico:
President Donald Trump's former adviser Steve Bannon refused to answer questions Tuesday from the House intelligence committee about his time in the White House, prompting panel members to subpoena him on the spot ...

According to the source, Bannon's attorney told the committee that he wouldn't discuss anything about his time in the White House or during the transition after the 2016 election.

(...)

The source said Republicans lawmakers — including the panel's top Republican Rep. Mike Conaway (R-Texas) and former federal prosecutor Rep. Trey Gowdy (R-S.C.) — were frustrated that Bannon was not more forthcoming.
Bannon refused to answer House committee's questions about time in White House (Politico)
---
UPDATE: 
House Intelligence Committee's interview with Steve Bannon has been complicated by question of how and when witnesses can assert executive privilege as basis for not answering questions, Rep. Tom Rooney says

— Mike Memoli (@mikememoli) January 16, 2018
---
Steve Bannon – Trump's former campaign CEO and White House Chief Strategist who largely stayed out of the Russia investigation spotlight until recently – is testifying behind closed doors before the House Intelligence Committee today. 
Author Michael Wolff quoted Bannon in his book Fire and Fury: Inside the Trump White House, as calling the June 9th Trump Tower meeting treasonous and unpatriotic and speculating that Donald Trump had to know his son, son-in-law, and campaign chairman met with Russians. 
House Democrats will likely focus on Bannon's willingness to criticize his former Trump campaign and White House colleagues — particularly Kushner — for taking meetings with Russian officials. 

"He's taking meetings with Russians to get additional stuff," Bannon told Vanity Fair late last year. "This tells you everything about Jared. They were looking for the picture of Hillary Clinton taking the bag of cash from Putin. That's his maturity level."

(...)

"The three senior guys in the campaign thought it was a good idea to meet with a foreign government inside Trump Tower in the conference room on the 25th floor with no lawyers," Bannon said, according to Wolff's new book Fire and Fury.

"Even if you thought that this was not treasonous, or unpatriotic, or bad s--t, and I happen to think it's all of that, you should have called the FBI immediately," Bannon added. He later clarified that he was primarily criticizing Paul Manafort, who he said should have known better than to meet with the Russians at the height of the campaign.
[Bannon] will also likely face questions about his knowledge of any contacts that Trump transition team members may have had with Russian officials, according to [the committee's top Democrat, Representative Adam] Schiff.

Blackwater founder Erik Prince in December detailed to investigators a January meeting he held with a Russian banker in the Seychelles, brokered by the UAE.

(...)

"We know from the Erik Prince testimony … that [Prince] had a meeting with Steve Bannon before he made that trip to the Seychelles traveling halfway around the world to have what he described essentially as a coincidental meeting with a Russian in a bar," Schiff told ABC News.

"Which just happened to be a head of one of the Russian Investment Banks, so we'd like to know whether Steve Bannon was involved in establishing any kind of a back channel of with the Russians."
Read more: Steve Bannon will be grilled by House investigators about Trump-Russia contacts — here's what we can expect (Business Insider)
Bannon gives closed-door testimony to House Intel panel (The Hill)