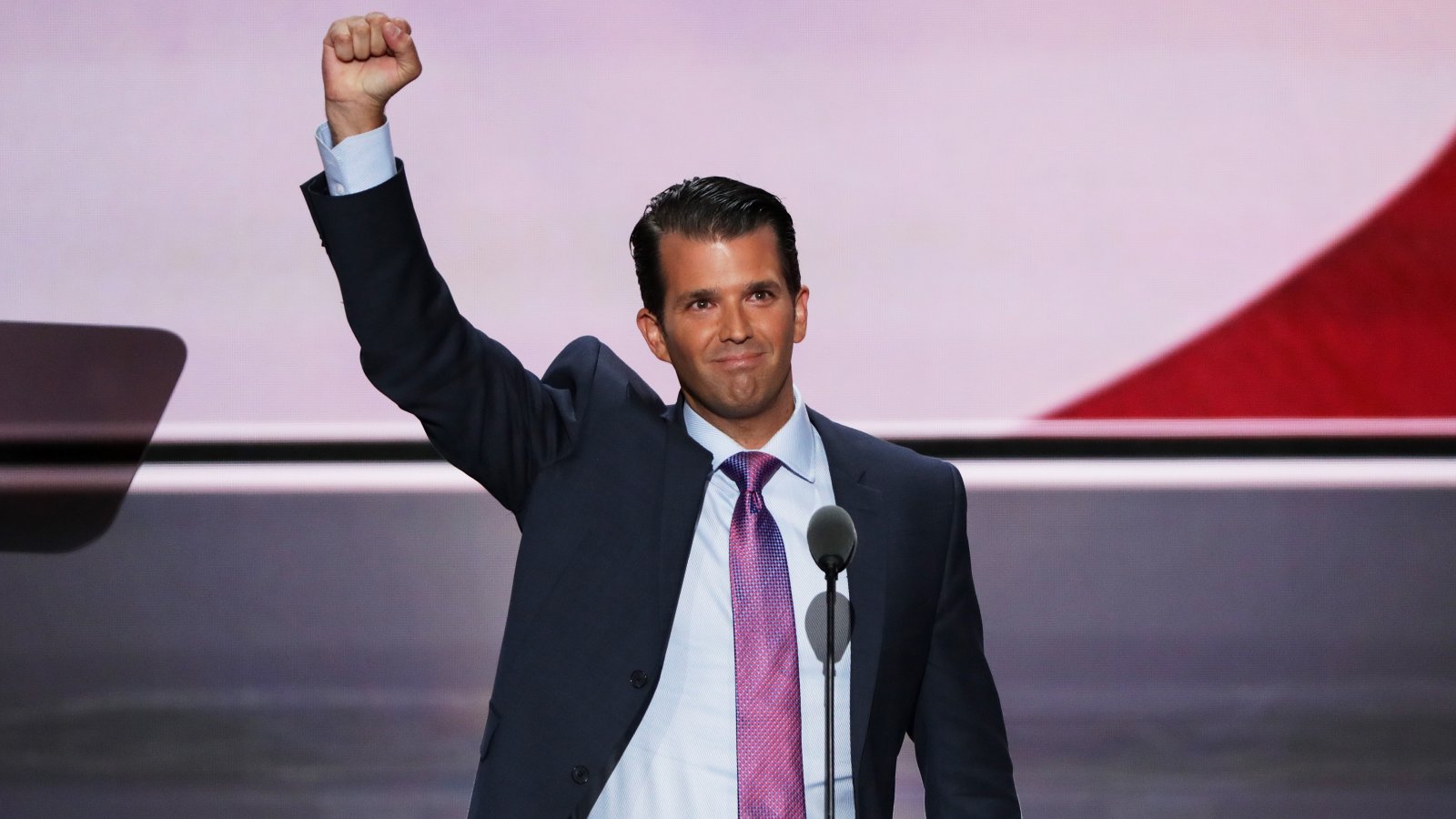 The Atlantic reveals Donald Trump Jr. and someone from Wikileaks were corresponding via direct message on Twitter during the 2016 campaign. 
A comparison of information in the article with past tweets indicates Trump Jr. likely was messaging with Julian Assange. 
According to The Atlantic, Wikileaks first messaged Trump Jr. on September 20, 2016 requesting comment on a new anti-Trump PAC about to launch. Trump Jr. responded he would ask around and then proceeded to share Wikileaks' outreach with several campaign staffers:
According to a source familiar with the congressional investigations into Russian interference with the 2016 campaign, who requested anonymity because the investigation is ongoing, on the same day that Trump Jr. received the first message from WikiLeaks, he emailed other senior officials with the Trump campaign, including Steve Bannon, Kellyanne Conway, Brad Parscale, and Trump son-in-law Jared Kushner, telling them WikiLeaks had made contact. Kushner then forwarded the email to campaign communications staffer Hope Hicks. At no point during the 10-month correspondence does Trump Jr. rebuff WikiLeaks, which had published stolen documents and was already observed to be releasing information that benefited Russian interests.
The Atlantic notes Trump Jr. did not reply to all of Wikileaks' messages, but on at least one occasion, he did follow through on a request to push content:
[O]n October 12, 2016, the account again messaged Trump Jr. "Hey Donald, great to see you and your dad talking about our publications," WikiLeaks wrote. (At a rally on October 10, Donald Trump had proclaimed, "I love WikiLeaks!")

"Strongly suggest your dad tweets this link if he mentions us," WikiLeaks went on, pointing Trump Jr. to the link wlsearch.tk, which it said would help Trump's followers dig through the trove of stolen documents and find stories. "There's many great stories the press are missing and we're sure some of your follows [sic] will find it," WikiLeaks went on. "Btw we just released Podesta Emails Part 4."

Trump Jr. did not respond to this message. But just 15 minutes after it was sent, as The Wall Street Journal's Byron Tau pointed out, Donald Trump himself tweeted, "Very little pick-up by the dishonest media of incredible information provided by WikiLeaks. So dishonest! Rigged system!"

Two days later, on October 14, 2016, Trump Jr. tweeted out the link WikiLeaks had provided him. "For those who have the time to read about all the corruption and hypocrisy all the @wikileaks emails are right here: http://wlsearch.tk/," he wrote.
In response to The Atlantic article, Trump Jr. posted on Twitter what he says is the full exchange of messages between himself and Wikileaks:
Here is the entire chain of messages with @wikileaks (with my whopping 3 responses) which one of the congressional committees has chosen to selectively leak. How ironic!
3/3 pic.twitter.com/5FdeNrbg02

— Donald Trump Jr. (@DonaldJTrumpJr) November 14, 2017
The messages confirm The Atlantic's reporting that Wikileaks' solicited Trump's tax returns, arguing they were going to leak sooner or later, and having them turn up on Wikileaks would make the site seem impartial: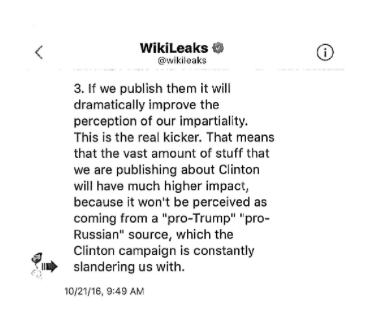 Representative Adam Schiff (D-CA), ranking member of the House Intelligence Committee, responded to The Atlantic report on Twitter as well:
If true, these messages represent more secret communications between the Trump campaign and cut-outs for the Kremlin, along with Roger Stone and Cambridge Analytica. It also demonstrates again a willingness by the highest levels of the Trump campaign to accept foreign assistance. https://t.co/58ezBDPZ71
— Adam Schiff (@RepAdamSchiff) November 14, 2017
The Secret Correspondence Between Donald Trump Jr. and WikiLeaks (The Atlantic)
Trump tweeted about Podesta emails 15 minutes after WikiLeaks asked Trump Jr. to: report (The Hill)
Donald Trump Jr. made senior Trump campaign staff, including Kushner and Bannon, aware that he was in touch with WikiLeaks (Business Insider)
CIA director brands WikiLeaks a 'hostile intelligence service' (The Guardian)