Former U.S. Attorney for the Southern District of New York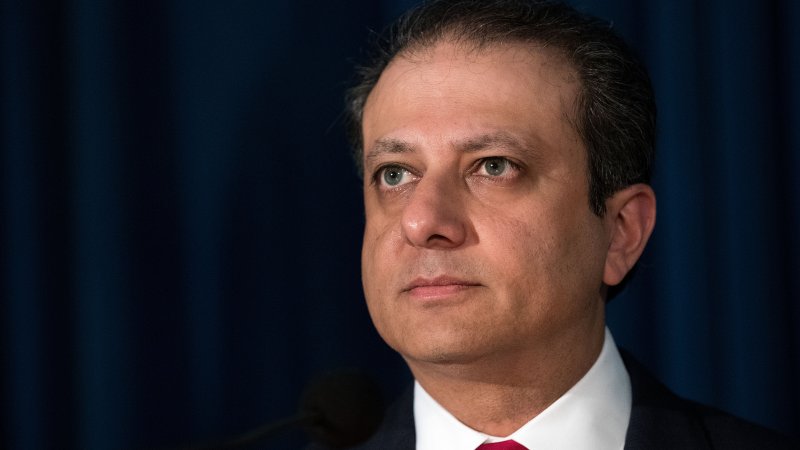 Preet Bharara served as U.S. Attorney for the Southern District of New York from 2009 to 2017. The New York Times referred to him as "as one of the nation's most aggressive and outspoken prosecutors of public corruption and Wall Street crime."
Bharara, former counsel for Senate minority leader Chuck Schumer and a President Obama appointee, met with President-elect Trump at Trump Tower on November 30, 2016. He spoke with reporters afterwards and said he would be staying on as U.S. attorney. However, on March 10, 2017, President Trump ordered all 46 United States attorneys left over from the Obama Administration to resign, including Bharara.
Bharara, who had no significant Twitter presence before March 2017, embraced the social media network and started weighing in on national affairs. He also joined NYU School of Law. In his first public interview after being dismissed, Bharara revealed President Trump had called him three times since their November meeting seemingly just to check in on him. Bharara says he took the first two calls in December but refused the third after Inauguration. He lost his job less than a month later.
Bharara was overseeing many cases at the time he was forced to leave his post. One of particular interest involved Russian attorney Natalia Veselnitskaya who represented Denis P. Katsyv, the son of a Russian transportation magnate, as he faced money laundering charges in New York City as part of a larger ongoing investigation into a $230 million Russian tax fraud scheme. Katsyv's Cyprus-based company, Prevezon Holdings Ltd., allegedly laundered stolen funds through the purchase of expensive commercial and residential Manhattan real estate.
The trial scheduled for Monday May 15, 2017 likely would have exposed details of suspected Russian mafia operations. But on the Friday before - May 12th - the Manhattan U.S. Attorney's office settled. Prevezon paid $5.9 million and did not have to admit any wrongdoing.
After news broke in July 2017 that Veselnitskaya, the lawyer in the Prevezon case, had met with Trump Jr. in NYC in June 2016, 17 Democrats on the House Judiciary Committee sent a letter to the Justice Department asking Attorney General Jeff Sessions to explain the sudden settlement in a $230 million fraud case involving a Russian lawyer with ties to the Trump campaign. The letter asked, "Was the firing of Preet Bharara in any way related to his office's prosecution of these crimes? Wittingly or unwittingly, was the Department of Justice involved? Even if these facts are mere coincidence -- and there is reason to be doubtful that they are mere coincidence -- they merit immediate explanation by the Attorney General and immediate investigation by the House Judiciary Committee."