Former White House Counsel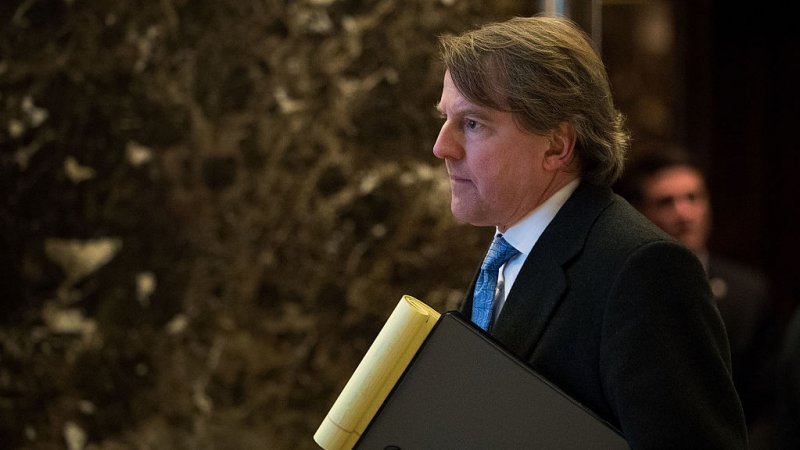 Don McGahn was the White House counsel, President Trump's official lawyer, until October 17, 2018.
He was in charge of all White House legal issues as well as ethics compliance, choosing and vetting Supreme Court nominees, and filling approximately 130 judicial vacancies in the lower federal courts. McGahn served as Trump's campaign counsel and general counsel for his presidential transition team.
Prior to joining up with Trump, McGahn spent nine years as chief counsel for the National Republican Congressional Committee (NRCC) and five as an FEC (Federal Elections Commission) Commissioner, selected by Senate Majority Leader Mitch McConnell. Described as a nonconformist who disliked campaign finance regulation, McGahn earned a reputation as someone who liked finding ways around the rules.
When Acting Attorney General Sally Yates warned McGahn that NSA Director Michael Flynn was at risk of blackmail because he'd misled the Vice President about his contacts with Russians during the campaign, McGahn reportedly asked why DOJ cared that one White House staffer lied to another.
In September 2017, McGahn hired a lawyer to represent him in the Special Counsel Robert Mueller's Russia probe. He picked William Burck, a partner at Quinn Emanuel Urquhart & Sullivan LLP. Burck also represents former Trump Chief of Staff Reince Priebus. Mueller is expected to ask McGahn about Trump's decision to fire FBI Director James Comey. Trump and political advisor Stephen Miller reportedly wrote a first draft of a letter dismissing Comey, and McGahn blocked them from sending it because of its "angry, meandering tone" and its reference to private conversations Trump and Comey had about Trump not personally being under investigation by the FBI. The existence of a first draft could be crucial to determining Trump's intent and whether he set out to obstruct justice.