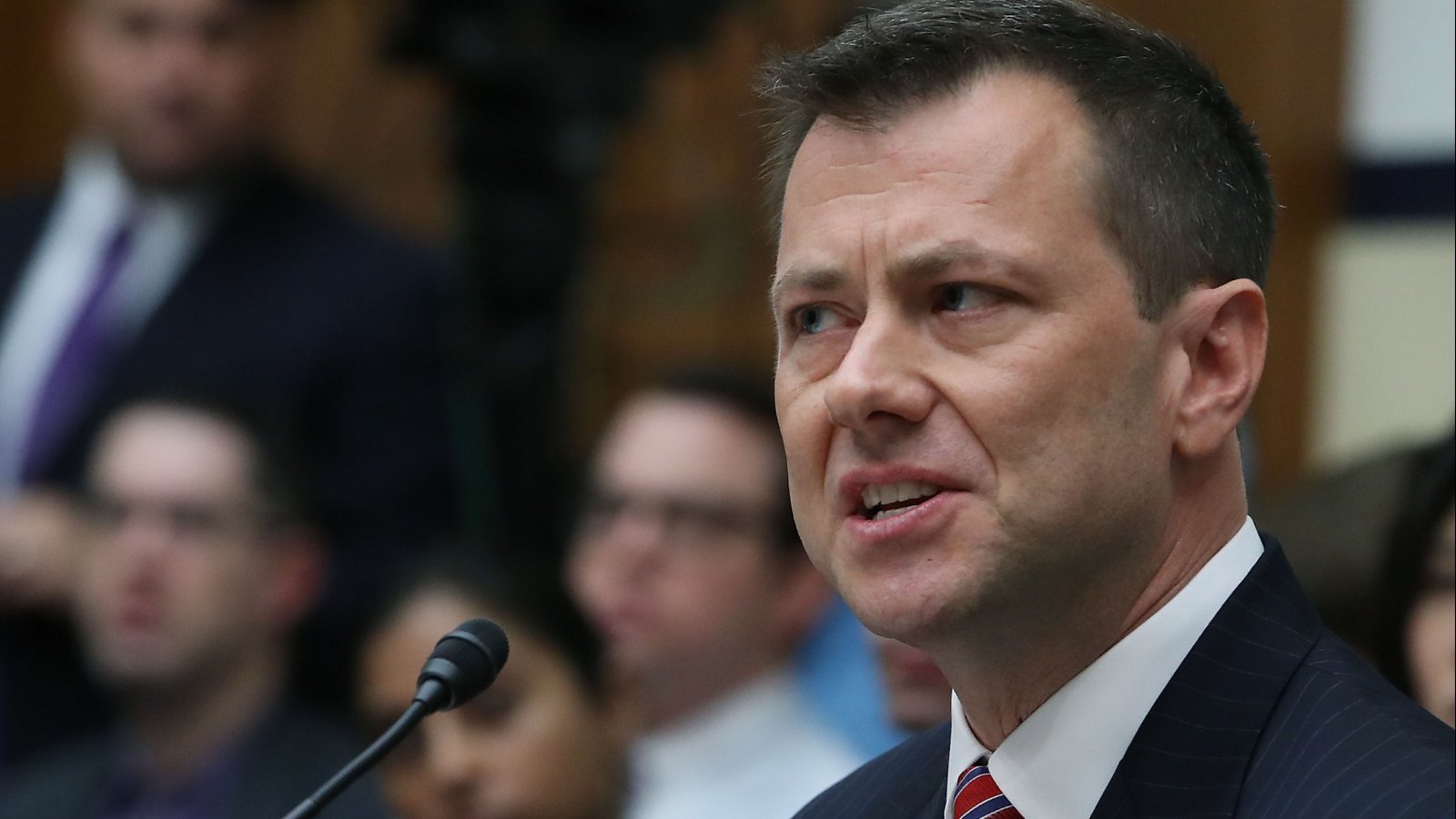 House Judiciary Committee Ranking Member Doug Collins (R-GA) today released the transcript of his committee's interview with former FBI counterintelligence official Peter Strzok last June.
On Tuesday, Collins put out FBI lawyer Lisa Page's transcript from her July 2018 interview.
Strzok and Page, who were romantically involved, exchanged extensive text messages during the 2016 campaign which Trump allies have used to insist the Justice Department is out to get the president. 
In the June 2018 interview, Strzok ... vehemently objected to the Justice Department inspector general's conclusion that he had prioritized the bureau's Trump investigation, which he led, over an investigation into Hillary Clinton's use of a private email server, which he joined midstream. Strzok argued that he "never took resources off one and put it onto the other," but that "a hostile foreign power . . . seeking to clandestinely influence our presidential election" was a far graver threat than the charge that Clinton was mishandling classified information.

Strzok, who played a leading role in the FBI's concurrent probes of Trump and Clinton, made a series of anti-Trump text messages he sent to former FBI lawyer Lisa Page, with whom Strzok confirmed he was having an affair. He was removed from a senior role with special counsel Robert S. Mueller III's probe of Russian interference in the 2016 election over the substance of the texts, though he said no one ever asked him about the intent behind his messages while he was being reassigned.

(...)

Strzok also explained a text of his from May 2017 in which he said he had "unfinished business" from the Clinton investigation he hoped to settle in the Trump probe as a reference "to a much broader effort of the government of Russia to interfere with our presidential election" — because Russian operators were using the results of the Clinton investigation "in a way to disrupt our election." Similarly, Strzok said, an August 2016 text in which Page urged him to stay in his job to "protect the country from that menace" — menace had been a reference to Russian operators, not Trump.
CNN:
Page told House lawmakers in a closed-door interview that the text message about an "insurance policy" if Trump won the 2016 election — which Republicans have cited to point to the anti-Trump bias the investigators exhibited — was a reference to the fact that the FBI's counterintelligence investigation into whether members of Trump's team were colluding with Russia would take on a greater significance if he was in the White House.

"If he is not elected, then, to the extent that the Russians were colluding with members of his team, we're still going to investigate that even without him being President, because any time the Russians do anything with a US person, we care, and it's very serious to us," Page said.

"But if he becomes President, that totally changes the game because now he is the President of the United States," she continued. "He's going to immediately start receiving classified briefings. He's going to be exposed to the most sensitive secrets imaginable. And if there is somebody on his team who wittingly or unwittingly is working with the Russians, that is super serious."
Both Strzok and Page insisted their personal opinions had no impact on their professionalism. 
In the interview, Page noted there was also an anti-Clinton bias at the FBI. She said that Strzok told her about senior FBI officials expressing a sentiment that "you have to get her." But she said the comments weren't instructions to investigators, and rather amounted to "smack talk."

"That's the point I keep trying to make, which is, like, we don't like a lot of the people we investigate. In fact, we mostly don't like the people we investigate," Page said.

CNN previously reported that Page explained another controversial text message in her interview — "We need to open the case we've been waiting on now while Andy is acting," Strzok had texted her in the hours after FBI Director Jim Comey's firing — was not about who was the FBI director.

"This case had been a topic of discussion for some time," Page said. "The 'waiting on' was an indecision and a cautiousness on the part of the Bureau with respect to what to do, whether there was sufficient predication to open."
WaPo:
Last year, Department of Justice Inspector General Michael Horowitz criticized individual FBI officials for exhibiting signs of bias about their investigations, even as he concluded that bias did not affect the outcome of the Clinton email probe. Page and Strzok's texts featured heavily in that review — and in the GOP-led investigations that seized upon it.
House Republicans release transcript of former FBI official Peter Strzok (WaPo)
Lisa Page explains why she and Strzok talked 'insurance policy' about Trump (CNN)
In newly released transcript, former FBI lawyer fires back on charges that anti-Trump bias affected Trump and Clinton probes (WaPo)