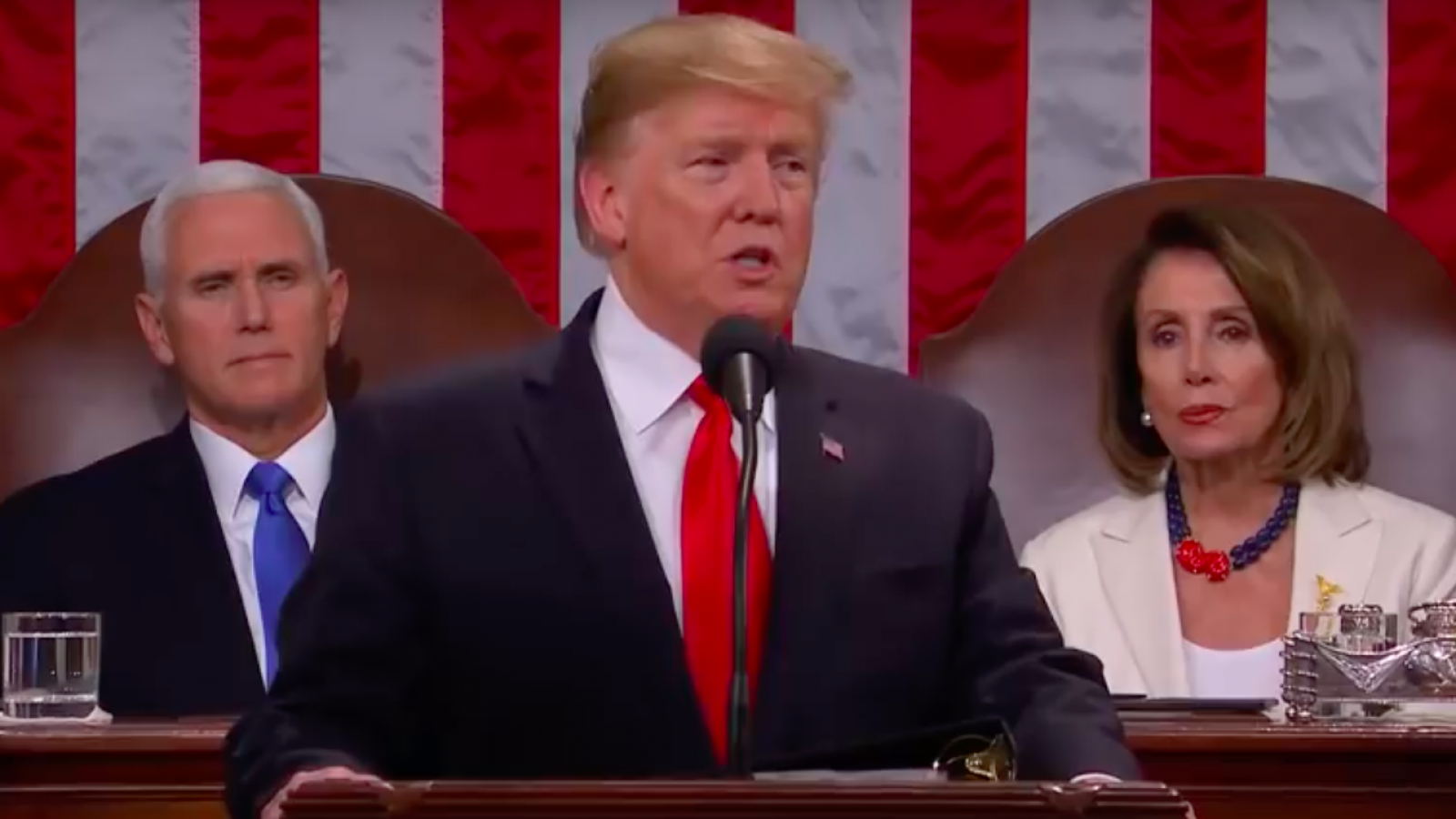 President Trump used his State of the Union address Tuesday night to attack the various ongoing investigations into his campaign, transition, and administration but did not mention any one, including the special counsel's Russia probe, specifically.
"An economic miracle is taking place in the United States -- and the only thing that can stop it are foolish wars, politics or ridiculous partisan investigations," the president said. "If there is going to be peace and legislation, there cannot be war and investigation. It just doesn't work that way!"
Democratic members of Congress expressed outrage at the president's words. 
"The President should not be attempting to undermine the Special Counsel's investigation during the #SOTU," Rep. Salud Carbajal, D-Calif., tweeted during the speech. "Mueller's investigation must be allowed to continue without obstruction."

Rep. Steve Cohen, D-Tenn., made a similar point on Twitter, noting the newly-launched investigations against Trump-related entities this week.

"Not partisan investigations. It's #Mueller, a Republican, the southern district of New York, Republican, [and eastern] district of Virginia, Republican. #TrumpRussia #TrumpLies," Cohen, chairman of the House Judiciary Subcommittee, tweeted.

"Protecting the Mueller investigation is a bipartisan issue. We will protect the investigation so truth can come to light," [Rep. Donald Payne Jr. (D-NJ)] tweeted. "There's nothing ridiculous about investigating crimes, Mr. President. No one, not even you, is above the law. Mueller's investigation must be completed without obstruction. Every American deserves the truth," [Rep. Lois Frankel (D-FL)] added.
House Speaker Nancy Pelosi (D-CA) minced no words in calling out the president's remarks.
"That was a threat. Presidents should not bring threats to the floor of the House," the California Democrat told a group of reporters at the U.S. Capitol on Wednesday.

(...)

When asked what Trump was specifically threatening, Pelosi said that he wasn't going to cooperate with them "unless we didn't exercise our constitutional responsibility to oversight."

"It was an all out threat. But you know what? It was a speech, it's a presentation, it's a performance," she said.

"What we're interested in is what he said about wanting to lower prescription drug prices. If he's sincere, we can find our common ground," she said. 
Senate Minority Leader Chuck Schumer (D-NY) believes the president is frightened of what investigators may uncover. 
"I took it that the president's scared. The bottom line is that we are as a country, we've always had congress do oversight over the executive branch," Schumer (D-N.Y.) told "CBS This Morning" on Wednesday. "That's how the Founding Fathers set it up."

In an earlier Wednesday appearance on CNN, Schumer said the president's "ridiculous partisan investigations" warning revealed that he has "something to hide." ... 

"And the president says if you investigate me I'm not going to make progress. That's already doing what he did with the shutdown. Holding the American people hostage," Schumer said. "He's got something to hide. Because if he had nothing to hide, he'd just shrug his shoulders and let these investigations go forward. He's afraid of them."
And House Intelligence Committee Chairman Adam Schiff (D-CA), while announcing his plan to reopen the Russia probe, informed the president that abandoning oversight simply is not going to happen. 
... Schiff ... said the panel will deepen its investigations of Russian election interference, seeking possible links to Trump's businesses, his campaign and his administration, in an effort to provide the American public with a comprehensive account of what happened in the 2016 election.

When asked about Schiff and the committee's move, Trump at first said he had never heard of Schiff. He then asked about the congressman's authority.

"Under what basis would he do that?" Trump asked. "He's just a political hack who's trying to build a name for himself. It's called presidential harassment."

Schiff fired back via Twitter.

"I can understand why the idea of meaningful oversight terrifies the President. Several of his close associates are going to jail, others await trial, and criminal investigations continue," Schiff said. "We're going to do our job and won't be distracted or intimidated by threats or attacks,"
Schumer: Trump is 'scared' of Congressional oversight (Politico) 
Lawmakers slam Trump over 'ridiculous partisan investigations' comment during State of the Union (ABC News)
Speaker Pelosi: President Trump threatened Democrats over administration oversight during State of the Union (USA Today)