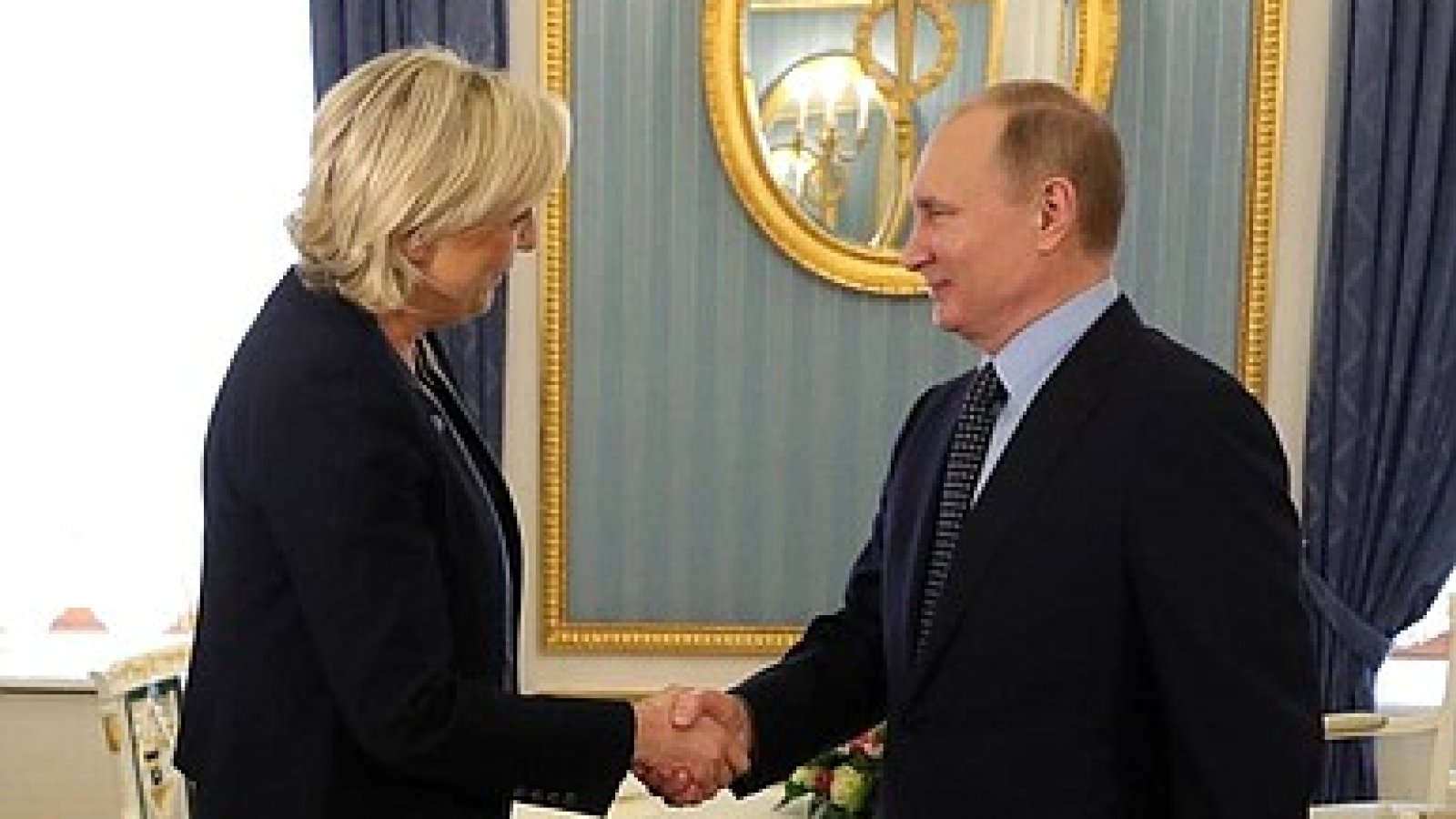 Marine Le Pen, France's far-right former presidential candidate, borrowed money from a Russian bank during her campaign. Now that bank is gone, and to whom Le Pen owes millions is in question. Experts say the quandary exemplifies the dangers of accepting financial support from Russians with an agenda. 
Four years later, the bank has gone bust. The owner is facing a warrant for his arrest. Former Russian military officers are demanding money. And the party's treasurer is sending off some $165,000 every few months to a woman in Moscow, unsure of where the payments ultimately will go. 

The money failed to deliver Le Pen the French presidency in last year's election, denying the Kremlin a powerful ally in the heart of Europe. Instead, the 9.4 million-euro loan, then worth $12.2 million, dragged her party into the shadowy underworld of Russian cross-border finance, putting it in league with people accused of having ties to Russian organized crime, money laundering and military operations.

(...)

The Le Pen loan, analysts say, is an example of how it works. After Putin sets out the vision, agents inside and outside the government begin executing it, hoping to score points with him if their gambits succeed.

The money is also perhaps the best evidence in recent years that Russian influence operations abroad involve not only Internet trolling and military adventurism but secretive financing as well.

The network that facilitated the deal, according to Joshua Kirschenbaum, a senior fellow at the German Marshall Fund's Alliance for Securing Democracy — which has authored a study on the loan along with the Washington think tank C4ADS — is "the purest distillation of how illicit finance intersects with foreign interference."
Le Pen's party, the National Front, borrowed from First Czech in September 2014.
In early 2016, First Czech started mysteriously shedding assets. Russian authorities alleged that millions of dollars in assets fraudulently flowed out the door as regulators closed in on the bank. Among them — the loan extended to Le Pen's party.

Elvira Nabiullina, the head of the Russian Central Bank, was leading a broad crackdown on questionable banks, many of which had become playthings for Russian businessmen, mob bosses and politicians.

With backing from Putin, she began closing banks with bad loans and insufficient reserves that threatened Russia's economic stability. The effort shut down nearly 100 financial institutions by the end of 2016.

(...)

Some six days before Russian regulators placed the bank in the hands of the provisional administrators, First Czech sold the [Le Pen] loan to an obscure Russian company that corporate registration records describe as a machinery and equipment rental company.

The loan didn't stay there for long. 

At the end of 2016, it was transferred to a Moscow-based aircraft supply company called Aviazapchast, according to Russia's deposit insurance agency. 

(...)

The company is deeply intertwined with the Russian military. Three of the four executives listed on its website spent decades in the Soviet and Russian armed forces. The company holds a government-secrets license from Russia's FSB security service.

The No. 2 executive on the leadership team listed on the company's website is Yevgeny Barmyantsev, a retired military officer who served as an attache at the Soviet Embassy in Washington. In 1983, as a 39-year-old Soviet military spy, he was expelled from the United States after federal agents caught him retrieving documents from the base of a tree in Maryland. 

Why Aviazapchast acquired the Le Pen loan is unclear. 

(...)

Earlier this year, Moscow's arbitration court ruled that Aviazapchast was in fact the rightful owner of the loan. But Russian regulators have appealed, according to the deposit insurance agency. An official there said the next hearing is in February. 

While Russian regulators attempt to recover the assets First Czech sold before its collapse, criminal prosecutors in Moscow have been pursuing the bank's managers and owners, including Popov. 

(...)

The Alliance for Securing Democracy and C4ADS describe the loan in their forthcoming report as an example of how Russian state actors leverage allegedly illicit financial networks for political purposes. What is unclear is how often they do so, given that few such transactions have been exposed and political parties rarely receive formal loans from foreign banks.

Moscow did not regard the loan as successful, particularly after Le Pen lost the presidency, said Mark Galeotti, an expert in Russian security affairs and a fellow at the European University Institute in Florence. He said Russia is now more likely to use smaller amounts of untraceable "black cash" in financial influence operations. 

The story of the loan agreement again demonstrates how Russia is not the "kind of ruthlessly disciplined, lockstep state" many have imagined, Galeotti added. 

"Most of these things are experimental," he said. "The Russians have no standard playbook. They just try things and see what works."
A Russian bank gave Marine Le Pen's party a loan. Then weird things began happening. (WaPo)