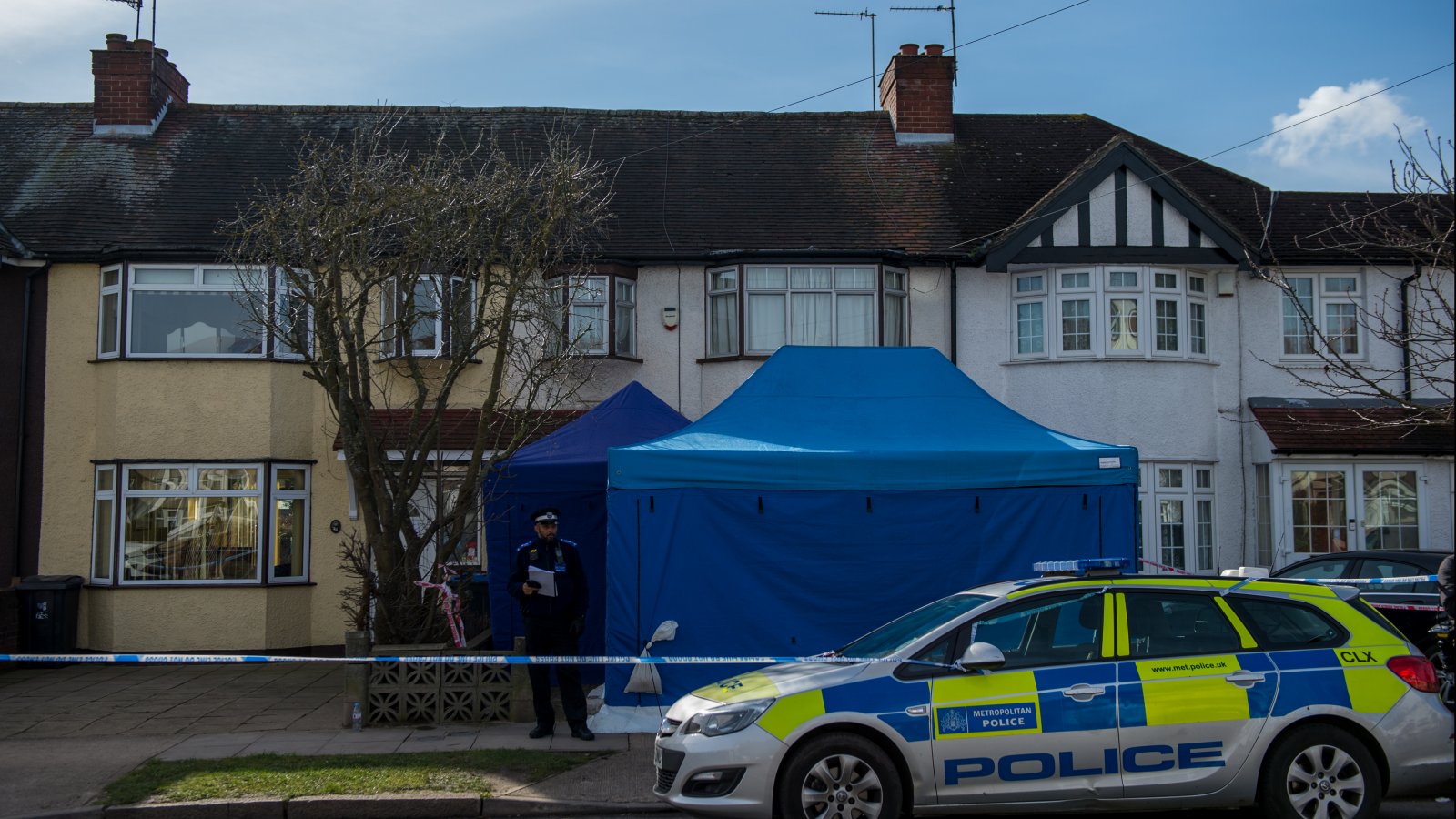 Russian Nikolai Glushkov, the former finance director of Aeroflot Russian Airlines, was living in South London and preparing to defend himself in court over alleged financial crimes when authorities found him strangled to death in his own home. 
He told friends it would prove his innocence of longstanding financial charges by Russian authorities and expose Aeroflot Russian Airlines as a front for Russian security services. The case could also prove embarrassing for President Vladimir Putin, by illuminating a piece of post-Soviet history the Russian government has tried to erase.

(...)

On the eve of a preliminary court hearing, Mr. Glushkov stopped answering his phone. When his daughter drove to his house to investigate, she found him inside, strangled to death with a dog leash. 

(...)

In Russia, his death was portrayed by state-controlled media as a homosexual tryst gone wrong. British police are treating it as a murder investigation. In August, they posted video footage of a black van seen near his home the night he was strangled, asking anyone with information to get in contact.

Mr. Glushkov's death has sent a strong message to Russia's émigré community. He was part of a trio of once-powerful Russians who, after amassing fortunes during Russian privatizations, helped build the political system that brought Mr. Putin to the presidency. After falling out of favor, the trio fled to England and tried to mount opposition to their former protégé, only to see their efforts disrupted by untimely deaths and costly litigation.

Their leader, Boris Berezovsky, was found hanged in a bathroom of his house in Berkshire, England, in 2013, in a death that was initially called a suicide but now police are investigating anew. Mr. Berezovsky's longtime security assistant, former Russian security officer Alexander Litvinenko, was killed in 2006 by a fatal dose of the radioactive isotope polonium-210, a murder the U.K. blamed on Russia. Another partner, Badri Patarkatsishvili, died of a heart attack in 2008, in what police have deemed natural causes. 

Mr. Glushkov, Mr. Berezovsky's right-hand man, was the last alive.
Glushkov's murder happened last March, just one week after Russian military intelligence officers allegedly poisoned former spy Sergei Skripal and his daughter Yulia in Salisbury, England. 
The central issue in the Glushkov case was Aeroflot's claim that the Russian and his partners, after gaining a foothold in Aeroflot management during privatizations, looted $120 million from the company.

In written statements, Aeroflot spokesman Andrey Sogrin said Aeroflot "is not today, nor was it ever, a 'paymaster for Russia's security services.' "

(...)

Mr. Glushkov maintained that Aeroflot's claim against him was absurd and that the entire case, which wound its way through the Chancery Division of London High Court for years, was a pretext for Russian authorities to harass him.

The pretrial court filings, including a 51-page witness statement viewed by The Wall Street Journal, show he intended to respond by reopening chapters of 20-year-old Russian history that are sensitive for the Kremlin and Russia's security services.

(...)

Through government-controlled news outlets and film documentaries, Moscow has largely erased suggestions that Mr. Putin was helped to power by anyone more powerful than himself—such as Mr. Berezovsky, Mr. Glushkov's business partner, who helped promote Mr. Putin and knew him personally.

(...)

Maria Litvinenko, widow of Alexander Litvinenko, who was poisoned by polonium in London in 2006, said in an interview her husband believed Mr. Berezovsky's takeover of Aeroflot ultimately destroyed him and his allies because he made so many enemies in the security establishment.

The airline, Ms. Litvinenko said her husband told her, was a centerpiece of the Russian spy services, which since Soviet days had used its global network of offices and air routes to provide payroll for its agents around the world, as well as shipping clandestine cargoes. "Aeroflot was the center of it all," she said—an allegation that Mr. Glushkov also intended to air in court.

(...)

In death, Mr. Glushkov enjoyed some measure of vindication. After the airline dropped the case in April without explanation, Judge Rose ordered Aeroflot to pay more than £3 million ($3.9 million) to compensate Mr. Glushkov's estate and other defendants for their court costs. She said that after eight years of litigation the airline had apparently folded its hand because "Aeroflot and its advisers realized that their case was doomed to fail in its entirety." 

Mr. Glushkov, she said, "had struggled to defend himself against what he saw as a politically motivated campaign of persecution by Aeroflot and the Russian state."
Full story: A Trio of Wealthy Russians Made an Enemy of Putin. Now They're All Dead. (WSJ) *Note: All WSJ articles appear behind a paywall