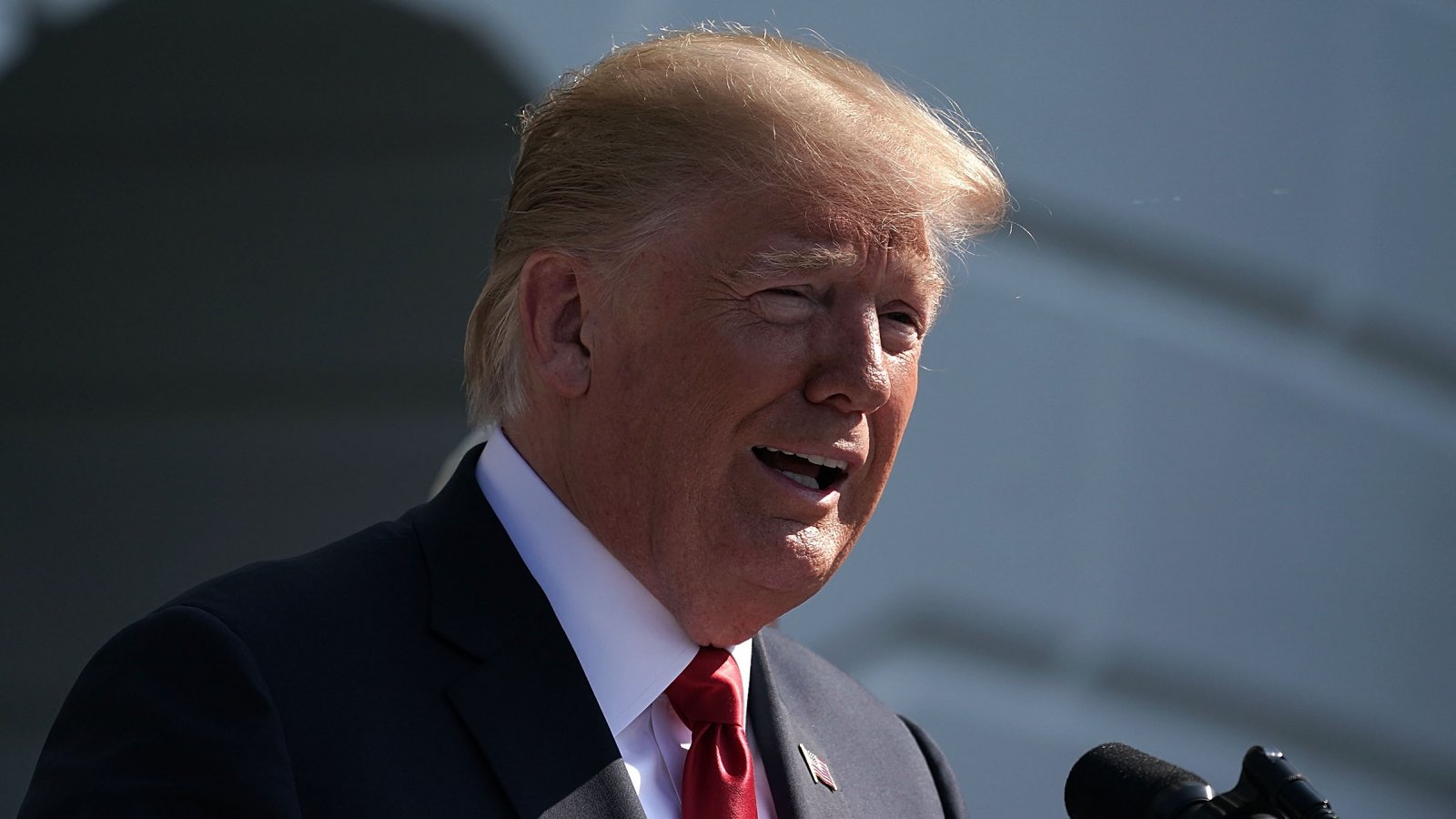 President Trump held his first National Security Council meeting on election security Friday, and with the 2018 midterms just three months away, the administration reportedly has no cohesive plan in place to counter foreign interference and no one in charge of the effort. 
"The President has made it clear that his administration will not tolerate foreign interference in our elections from any nation state or other malicious actors," the White House said in a statement afterward.

But current and former officials tell NBC News that nineteen months into his presidency, there is no coherent Trump administration strategy to combat foreign election interference — and no single person or agency in charge.

In the statement, the White House took issue with that, saying a strategy was put in motion when Trump took office. No such strategy has been made public — or even mentioned before.
"If the president's election security meeting only lasted a measly 30 minutes, cut short to fly off to Bedminster to golf, he's telling the American people that he refuses to take this issue seriously," said Mississippi Rep. Bennie Thompson, the top Democrat on the House Homeland Security Committee.

With less than four months until the midterms, Thompson questioned the last-minute push.

"A lot of us are not convinced that all hands are on deck on this effort … If so, people would be trying to put resources behind it," said Thompson, noting that earlier this year the White House eliminated the post of cybersecurity coordinator. "If we are concerned about November, we had almost a year and a half head start to do something."
Last week, House Republicans voted down a proposal by Democrats to increase election funding to states by $380 million — the cost of about four F-35 fighter jets.

Democrats in Congress are deeply dismayed.

"In a normal White House, there would be a point person on the National Security Council, to coordinate all the different agencies and to work with the states and the social media companies to make sure our electoral systems aren't so vulnerable to attack," Sen. Mark Warner of Virginia, who is helping lead an investigation into Russian interference as ranking Democrat on the Senate Intelligence Committee, told NBC News.

"But President Trump's inability to acknowledge that the Russians interfered in 2016 and that they will be back in 2018 is really hampering the government's response to this threat. We just don't have a whole-of-government strategy for dealing with this problem, and it leaves us incredibly vulnerable to continued interference by the Russians or, for that matter, any other adversary who might try to steal their playbook."

(...)

Asked to comment, a spokeswoman for the National Security Council, who declined to allow her name to be used, said in an email: "The NSC leads the regular and continuous coordination of the whole of government approach to addressing foreign malign influence and election security."

Asked who at the NSC was responsible, she did not respond. The White House eliminated the job of cyber security coordinator on the National Security Council.

The White House statement released after Friday's meeting lacked details of any new security efforts.
NBC News notes various agencies have been taking steps on their own, but one central, coordinated strategy just does not exist, and the administration has done nothing to deter Russia from attacking again.
The Department of Homeland Security is working with states to improve cyber security in voting systems. The FBI created a "foreign influence task force," and the Justice Department announced a new policy his month to inform the public about bots and trolls on social media. The National Security Agency and U.S. Cyber Command are coordinating to counter Russian influence in cyberspace, the general in charge of those agencies has said.

But even members of Trump's national security cabinet have acknowledged the need for a central, unifying effort — one that experts say is missing. Senior officials have also admitted that the government has failed to take steps necessary to give the Russians second thoughts about intervening in American politics. Trump hasn't done so, and neither did Barack Obama, whose response to election meddling — expelling diplomats and closing Russian compounds in December 2016 — has been described by some of his own former aides as tepid.
The Daily Beast reported Thursday that hackers with Russia's military intelligence agency already have gone after Missouri Senator Claire McCaskill, making her the first identified target of 2018 election interference. 
Politico surveyed the states to gauge how ready they might be for election interference in 2018 and 2020 and found the results troubling. 
Only 14 states plus Washington, D.C., say they plan to replace their voting machines in time for the next presidential election using their shares of the $380 million in election technology funding that Congress approved in March ...

At least six other states have paid for new voting equipment with other money. But 22 states either have decided not to upgrade their machines or are unsure of their plans — with some saying they would need much more federal aid to swap out their equipment.

(...)

[S]ecurity experts have long warned that voting machines represent an often-overlooked vulnerability for American democracy, especially the paperless touchscreen devices that 30 states rely on either totally or partially. Those experts said the $380 million that Congress provided this year is barely enough to train election workers and fix the voter registration databases that were a top target for hackers in 2016 — and nowhere near enough to replace insecure voting machines.

(...)

... [S]pecial prosecutor Robert Mueller's latest indictment accused Russian hackers of infiltrating a Florida-based company that supplies software for voting machines across the country. And cybersecurity experts have demonstrated an ability to breach at least some versions of the machines, sometimes in minutes.

(...)

Vermont Secretary of State Jim Condos, the new president of the National Association of Secretaries of State, recently said both Congress and Trump need to do more. He urged Congress to create a regular election security grant program, and he said he hasn't seen much leadership on the issue from the president, who has denounced the Russia investigation as a "witch hunt."

"Unfortunately, the person at the top has not been supportive and has sent mixed messages, and that makes it difficult on us as secretaries," Condos said in a July 20 interview on C-SPAN.
Trump admin has no central strategy for election security, and no one's in charge (NBC News)
2018 midterms: President Trump meets with security aides as critics demand federal election plan (USA Today)
Despite Trump's assurances, states struggling to protect 2020 election (Politico)
Russian Hackers Appear to Shift Focus to U.S. Power Grid (NYT)