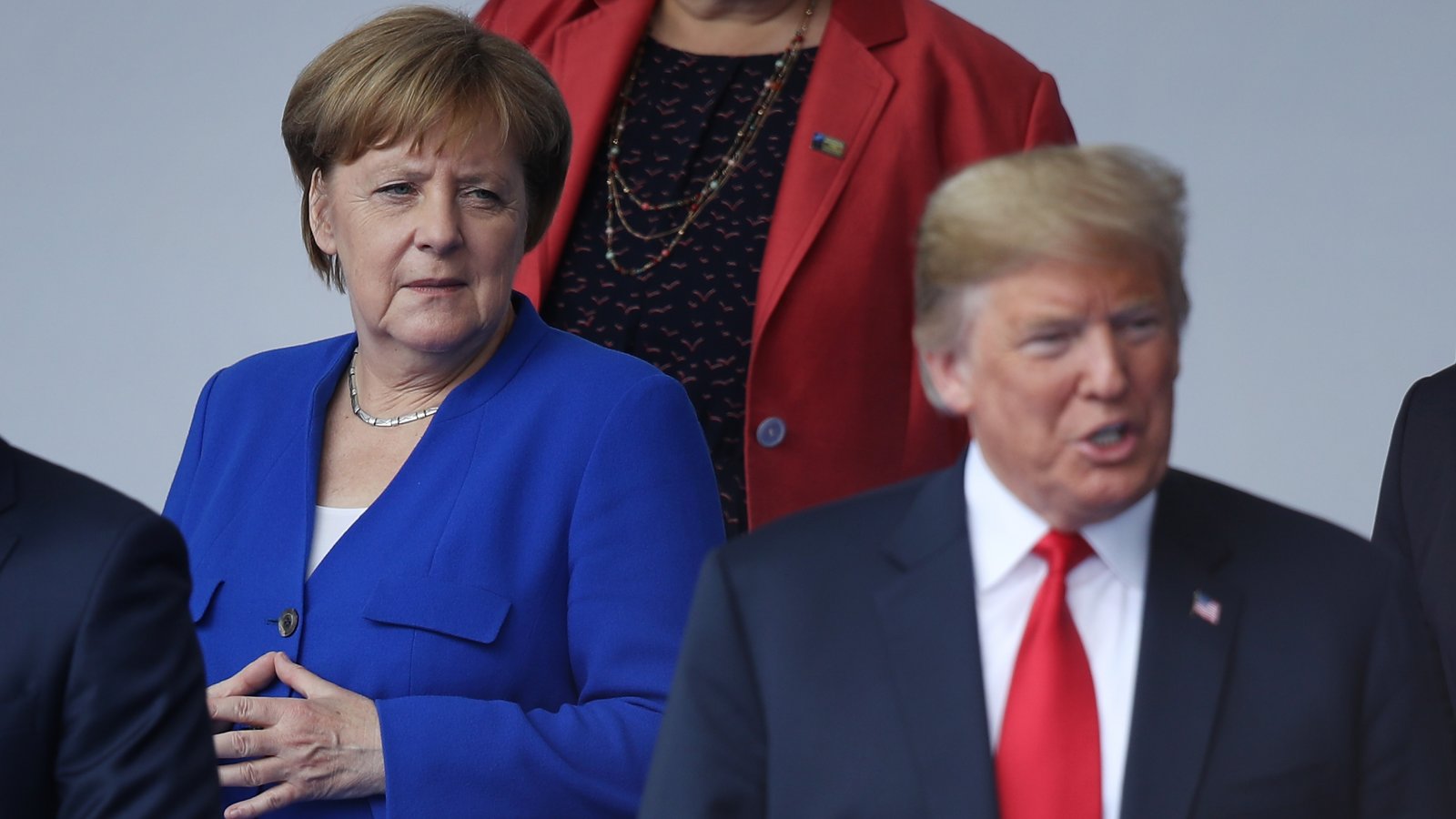 President Trump kicked off his first meeting of the NATO summit in Brussels Wednesday by vocalizing his misunderstanding of how NATO's defense spending operates and falsely accusing Germany of being "totally controlled by Russia."
"Many countries are not paying what they should, and, frankly, many countries owe us a tremendous amount of money from many years back," Mr. Trump said at a breakfast with Jens Stoltenberg, the NATO secretary general, at the residence of the American ambassador to Belgium. "They're delinquent, as far as I'm concerned, because the United States has had to pay for them."

He singled out Germany for particularly sharp criticism, saying the country was "totally controlled by Russia" because of its dependence on Russian natural gas. The United States spends heavily to defend Germany from Russia, he said, and "Germany goes out and pays billions and billions of dollars a year to Russia."

He criticized Germany for giving approval for Gazprom, the Russian energy titan, to construct the Nord Stream 2 pipeline through its waters, a $10 billion project.

"Germany is a captive of Russia" because of the oil and gas issue, Mr. Trump said. "I think it's something that NATO has to look at."
NPR:
"Well, I have to say I think it's very sad when Germany makes a massive oil and gas deal with Russia when you're supposed to be guarding against Russia," Trump said, flanked by Secretary of State Mike Pompeo, Secretary of Defense James Mattis, White House chief of staff John Kelly and Kay Bailey Hutchison, the U.S. Permanent Representative to NATO.

"So, we're protecting Germany, we're protecting France, we're protecting all of these countries," the president said. "And then numerous of the countries go out and make a pipeline deal with Russia where they're paying billions of dollars into the coffers of Russia. So, we are supposed to protect you against Russia."

"You tell me if that is appropriate?" Trump said as he unloaded on Stoltenberg. "Germany is totally controlled by Russia."

(...)

Trump was referring to a 2015 agreement between Russian gas giant Gazprom and Germany to build a pipeline under the Baltic Sea. Despite German Chancellor Angela Merkel's tough talk over Russia's annexation of Crimea and sponsorship of separatist rebels in eastern Ukraine, she has defended the $11 billion pipeline deal to supply her country's energy shortfall.
German Chancellor Angela Merkel, who grew up in East Germany, pointedly responded to President Trump's remarks.
"I have experienced myself how a part of Germany was controlled by the Soviet Union," she told reporters who asked about Mr. Trump's comments as she entered the NATO leaders' meeting. Now "united in freedom," she said, Germany "can make our own policies and make our own decisions."

In her typical polite-but-firm fashion, Ms. Merkel showed no sign of irritation at Mr. Trump's remarks and did not say directly that he was wrong, but she made her position clear.

She noted that Germany was the second-largest provider of NATO troops, after the United States, and had thousands of troops supporting the American-led effort in Afghanistan.

"Germany does a lot for NATO," she said, adding that, in the process, Germans "defend the interests of the United States." 
Later, Trump and Merkel spoke face-to-face. 
CNBC:
The pair then met behind closed doors and emerged to briefly address reporters with warmer words of mutual support, albeit delivered in a perfunctory manner.

Trump spoke first, claiming that the relationship between the two leaders remained positive.

"We're having a great meeting. We're discussing military expenditure... talking about trade," he said, before suggesting that more trade could be agreed in the future.

"We have a very, very good relationship with the chancellor. We have a tremendous relationship with Germany," he added.

Merkel, speaking through a translator, stressed that she was happy to have had an exchange of views.

The German leader added that apart from migration and trade, they had discussed "very briefly" Trump's upcoming trips to the United Kingdom and Finland, where he is to meet Russian President Vladimir Putin.

Merkel finished by saying she looked forward to future meetings because "after all, we are partners."
NATO Summit Live Updates: Trump Says Germany Is 'Captive' to Russia (NYT)
Trump Unloads On NATO Secretary-General, Germany Over Defense Spending (NPR)
Trump and Merkel show a brave face to the press at NATO summit after awkward build-up (CNBC)