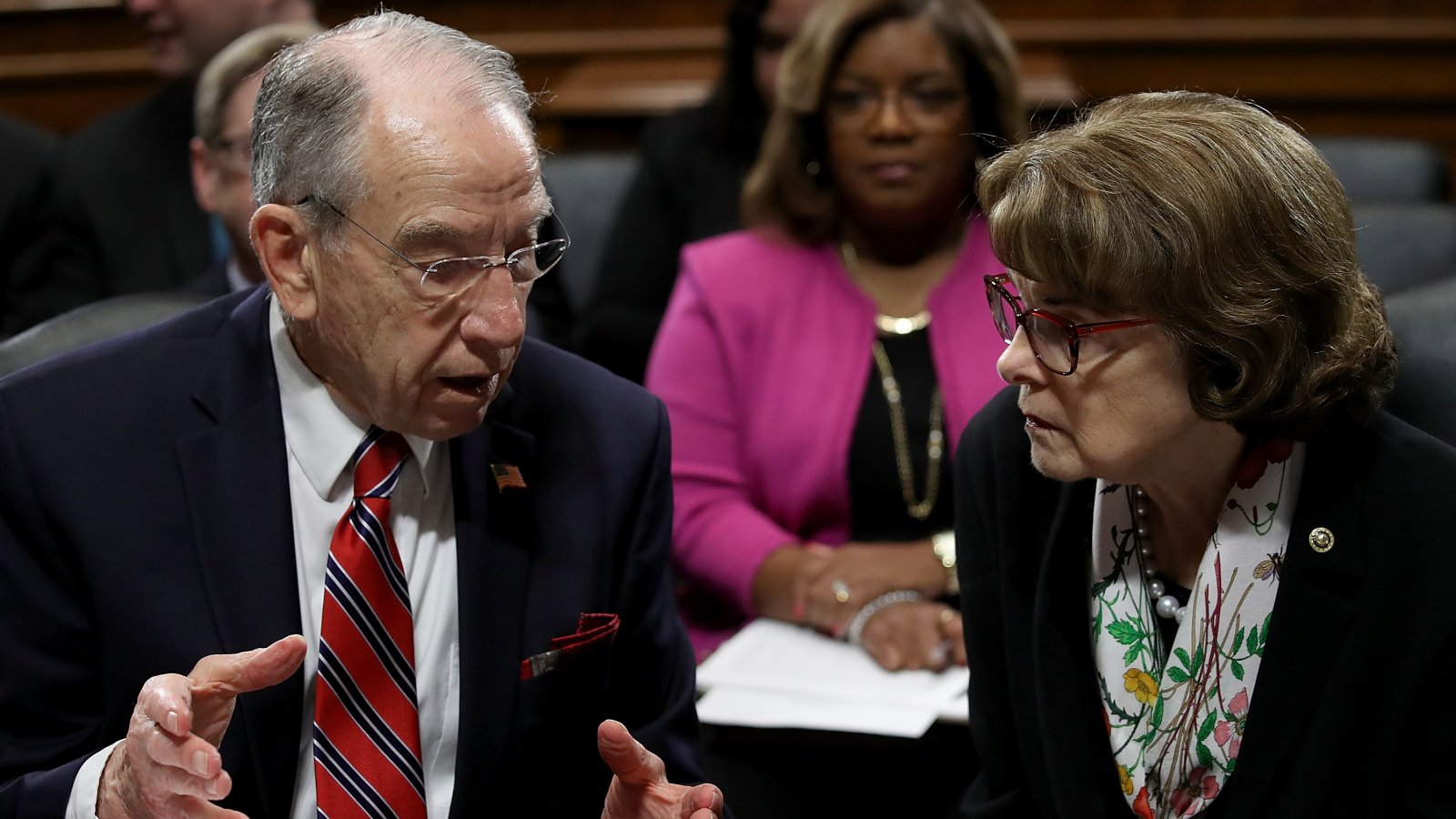 USA Today reports the Senate is having trouble passing legislation that would protect upcoming U.S. elections from more foreign interference, and Senate Judiciary Committee Chairman Chuck Grassley (R-IA) is asking Trump administration officials for help. 
Grassley's bill, the Disclosing Foreign Influence Act, would require Justice to develop a comprehensive strategy to improve enforcement of the Foreign Agents Registration Act. Companies don't want to have to register as foreign agents and oppose a provision that would require international businesses with U.S. subsidiaries to register.

"We're running into opposition from some business groups that I don't think have a legitimate reason to oppose it," Grassley told Adam Hickey, a deputy assistant attorney general in the Justice Department's national security division, during a committee hearing Tuesday. "I wish you'd look at it and consider supporting it."
The Judiciary Committee's top Democrat, Senator Dianne Feinstein (D-CA), has introduced a separate bill with fellow committee member Senator John Cornyn (R-TX).
That bill would require the attorney general to create a section within the Justice Department to enforce laws against suspected operatives or agents of foreign governments. 
Both Grassley's bill and the Feinstein-Cornyn bill have stalled in the Senate Foreign Relations Committee.
Senator Amy Klobuchar (D-MN) and Senator James Lankford (R-OK) have another bipartisan bill in the mix, but Senate Republicans are blocking it from being added as an amendment to larger legislation. 
The Secure Elections Act would streamline cybersecurity information sharing between federal intelligence agencies and state election officials and provide security clearances to state officials, so they could get classified information about cyberthreats.

The senators are trying to attach the bill to a sweeping defense authorization bill the Senate is likely to pass this week, but Klobuchar said their amendment faces opposition from GOP leaders.

"For reasons I do not understand, our bill ... is being hung up," Klobuchar said Tuesday.
And just today, six Democratic Senators – Senators Ron Wyden (D-OR), Kirsten Gillibrand (D-NY), Ed Markey (D-MA), Jeff Merkley (D-OR), Patty Murray (D-WA), and Elizabeth Warren (D-MA) – introduced legislation that would require states to take concrete steps to protect elections from hackers looking to manipulate votes. 
From the press release: 
The Protecting American Votes and Elections Act of 2018 requires paper ballots and statistically rigorous "risk-limiting" audits for all federal elections – the two steps cited by election experts as necessary to give voters confidence that election results have not been changed by foreign governments or other hackers.
Senator Wyden:
"Leaving the fate of America's democracy up to hackable election machines is like leaving your front door open, unlocked and putting up a sign that says 'out of town.' It's not a question of if bad guys get in, it's just a question of when."

(...)

This bill requires that all election bodies audit every federal election, regardless of how close it is, by employing statistically rigorous "risk-limiting audits," which deliver nearly the same level of confidence in the election results as a full manual recount, at a fraction of the cost.

Congressman Earl Blumenauer, D-Ore., will introduce a House companion to this legislation.

Currently, 22 states do not require any post-election audits. Many other states merely require recounts in a few precincts.
Bills to protect U.S. elections from foreign meddling are struggling, senators say (USA Today)
Wyden, Gillibrand, Markey, Merkley, Murray and Warren Introduce Bill to Secure Elections (press release)