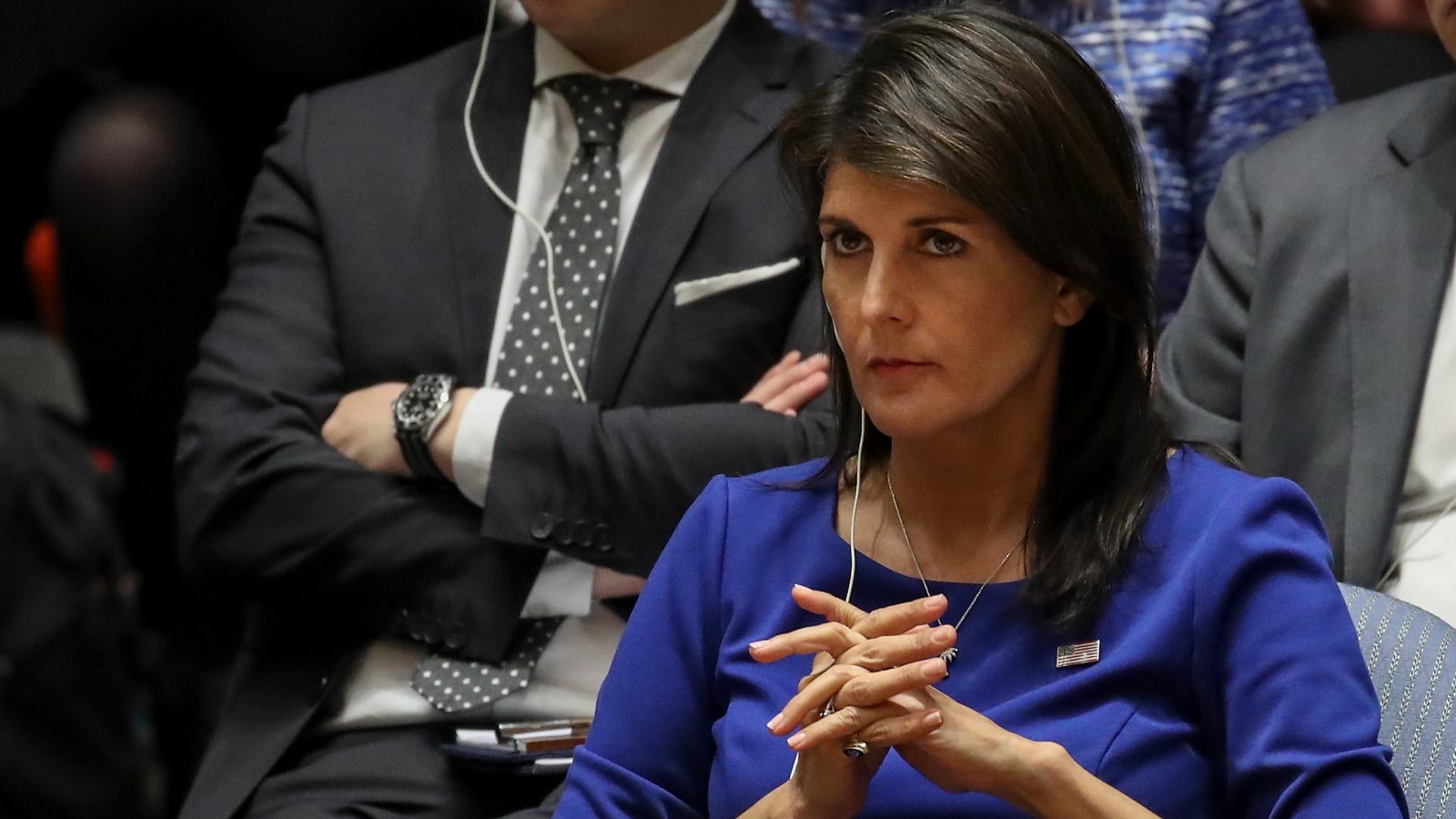 US Ambassador to the United Nations Nikki Haley says the United States Treasury Department will implement new sanctions against Russia on Monday, 
"Russia sanctions will be coming down. [Treasury] Secretary [Steven] Mnuchin will be announcing those on Monday if he hasn't already, and they will be going directly to any sort of companies that were dealing with equipment related to [Syrian leader Bashar] Assad and chemical weapons use," Haley told CBS News's Margaret Brennan on "Face the Nation."

"So I think everyone is going to be feeling it at this point. I think everyone knows that we sent a strong message, and our hope is that they listen to us," she said. 

The sanctions are designed to hit Russia for its support for the Assad government after last week's apparent chemical attack on Syrian civilians. 
Haley has been one of the strongest voices accusing Russia of enabling the Syrian government in its use of chemical weapons in the civil war that is now in its seventh year. Russia has vetoed at least six resolutions in the U.N. Security Council regarding chemical weapons. The Russian vetoes have been one of the main irritants in strained relations between Washington and Moscow, with Western diplomats accusing Russia of trying to protect the Assad government.
The announcement comes after Russia's failed attempt to garner international condemnation of the US, UK, and France joint missile strike on Syria launched early Saturday morning local time. 
Only Russia, China and Bolivia voted in favor of the draft resolution. Eight countries voted against the draft, while four abstained. A resolution needs nine votes in favor and no vetoes by Russia, China, France, Britain or the United States to pass.
Anatoly Antonov, Russia's ambassador to the United States, tweeted that the strike would have repercussions. "We warned that such actions will not be left without consequences."

(...)

NATO Secretary-General Jen Stoltenberg said all 29 NATO members supported the airstrikes in Syria.

"This will reduce the regime's ability to further attack the people of Syria with chemical weapons," Stoltenberg said.

Meanwhile, Iran, another ally of Syria, joined Russia in denouncing the airstrikes.

"Last night's strike that happened at dawn against Syria is a crime," Iran's Supreme Leader, Ayatollah Ali Khamenei, said in a statement. "I clearly announce that the U.S. President, the French President and the British Prime Minister are criminals and have committed a crime."
US to impose sanctions on Russia in wake of Syrian chemical attack (The Hill)
U.N. Security council fails to adopt Russian resolution on Syria (Reuters)
US is 'locked and loaded' if Syria uses chemical weapons again: Nikki Haley (ABC News)