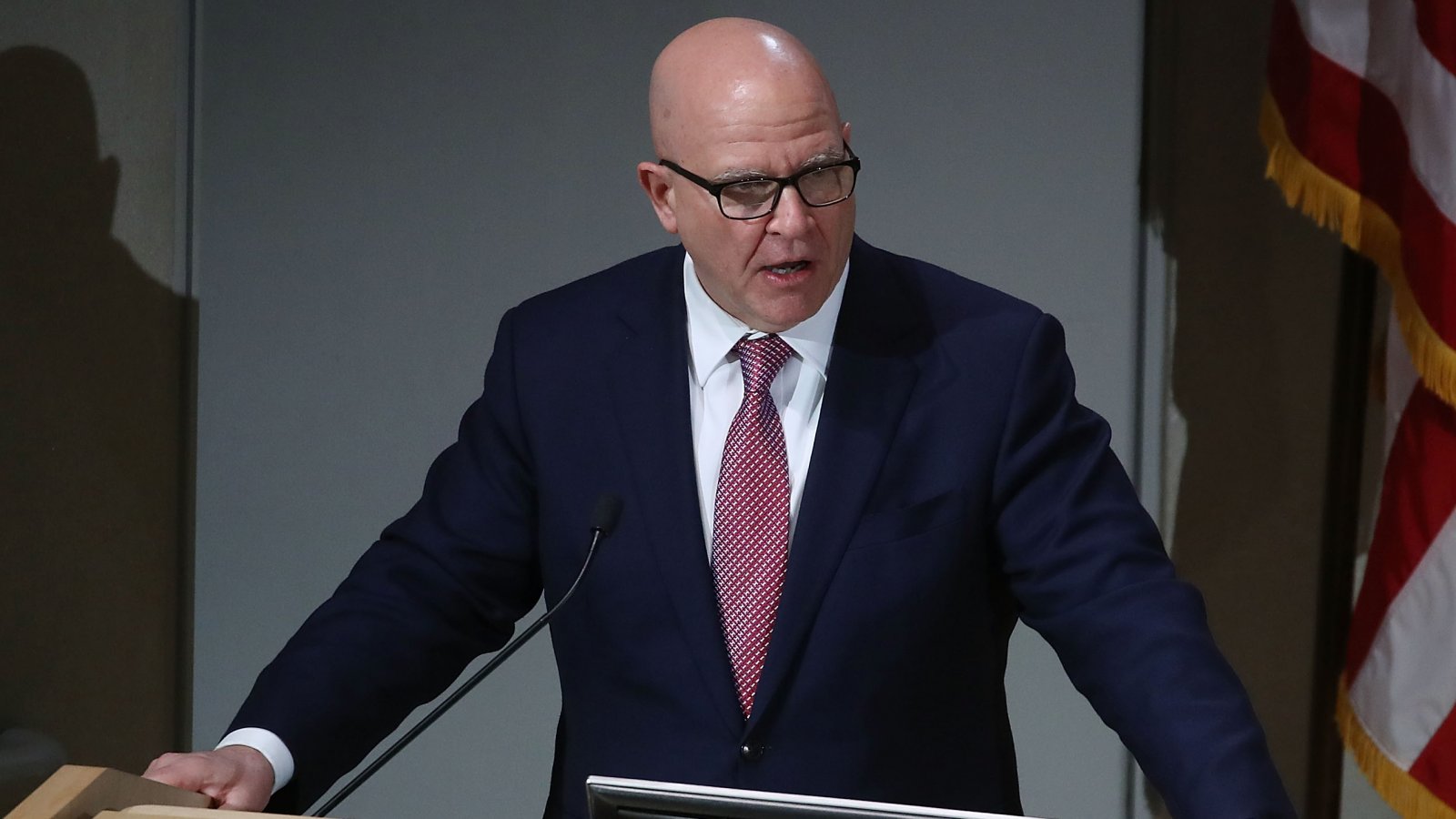 UPDATE: CNN and The Washington Post are reporting President Trump is ready to remove H.R. McMaster. 
WaPo:
Trump is now comfortable with ousting McMaster, with whom he never personally gelled, but is willing to take time executing the move because he wants to ensure both that the three-star Army general is not humiliated and that there is a strong successor lined up ... 

(...)

The president has complained that McMaster is too rigid and that his briefings go on too long and seem irrelevant.
Sources: Trump ready to replace H.R. McMaster as national security adviser (CNN)
Trump decides to remove national security adviser, and others may follow (WaPo)
---
National Security Advisor H.R. McMaster gave a impassioned speech at the U.S. Holocaust Memorial Museum Thursday during a program about the Syrian Civil War, calling out Russia for its despicable actions and insisting the U.S. and its allies must do more than just issue statements of condemnation. 
"Russia is also complicit in Assad's atrocities," he declared. "The Russian government has bombed civilian areas and provided political cover for Assad's crimes." 

He slammed Russia for carrying out more than 100 bombing missions in the rebel-held area of Eastern Ghouta and invoked the recent chemical attack on a former spy in southern England as examples of Russian aggression. The U.S. on Thursday morning joined Britain, France and Germany in blaming Russia for the attack in a rare joint statement.

"If Iran and Russia do not stop enabling the regime's atrocities and adhere to U.N. Security Council resolutions, all nations must respond more forcibly than simply issuing strong statements," McMaster said. "It is time to impose serious political and economic consequences on Moscow and Tehran. Assad should not have impunity for his crimes, and neither should his sponsors."
His voice raised, McMaster used harsher and more moralistic language than his boss does in characterizing Russia's geopolitical influence, and unequivocally blamed the Kremlin for "the abhorrent nerve agent attack" on a former double agent, Sergei Skripal, and proposed "serious political and economic consequences" for Russian aggression.

(...)

"Russia has done nothing to encourage Assad to ensure delivery of humanitarian aid, to respect ceasefires and de-escalation agreements or to comply with U.N. Security Council Resolution 2254's call for a U.N.-monitored political process," McMaster said.

Those remarks suggested that Trump got suckered during his 2017 rounds of personal diplomacy with Vladimir Putin. In November, Trump and Putin issued a joint statement firmly pledging support for what is known as the 2254 Process—though critics considered it a cover for Moscow to continue ensuring support for its client, Assad ...
Both Politico and Daily Beast note McMaster's fiery remarks could be his last as National Security Advisor.  
McMaster's brief remarks, lasting under 20 minutes, came as the Army three-star general is the subject of furious speculation that Trump will soon fire him and install hardliner ex-ambassador John Bolton atop the National Security Council.
McMaster's speech came as reports swirl about his potential ouster, and just days after Secretary of State Rex Tillerson — who had a habit of taking more aggressive stances than the White House — was fired by the president via Twitter. McMaster replaced fired national security adviser Michael Flynn in February 2017 but has been known to clash with Trump over a broad array of issues.
McMaster calls for further U.S. punishment of Russia over 'atrocities' in Syria (Politico)
H.R. McMaster Gives The Kremlin a Double Bird Salute (Daily Beast)