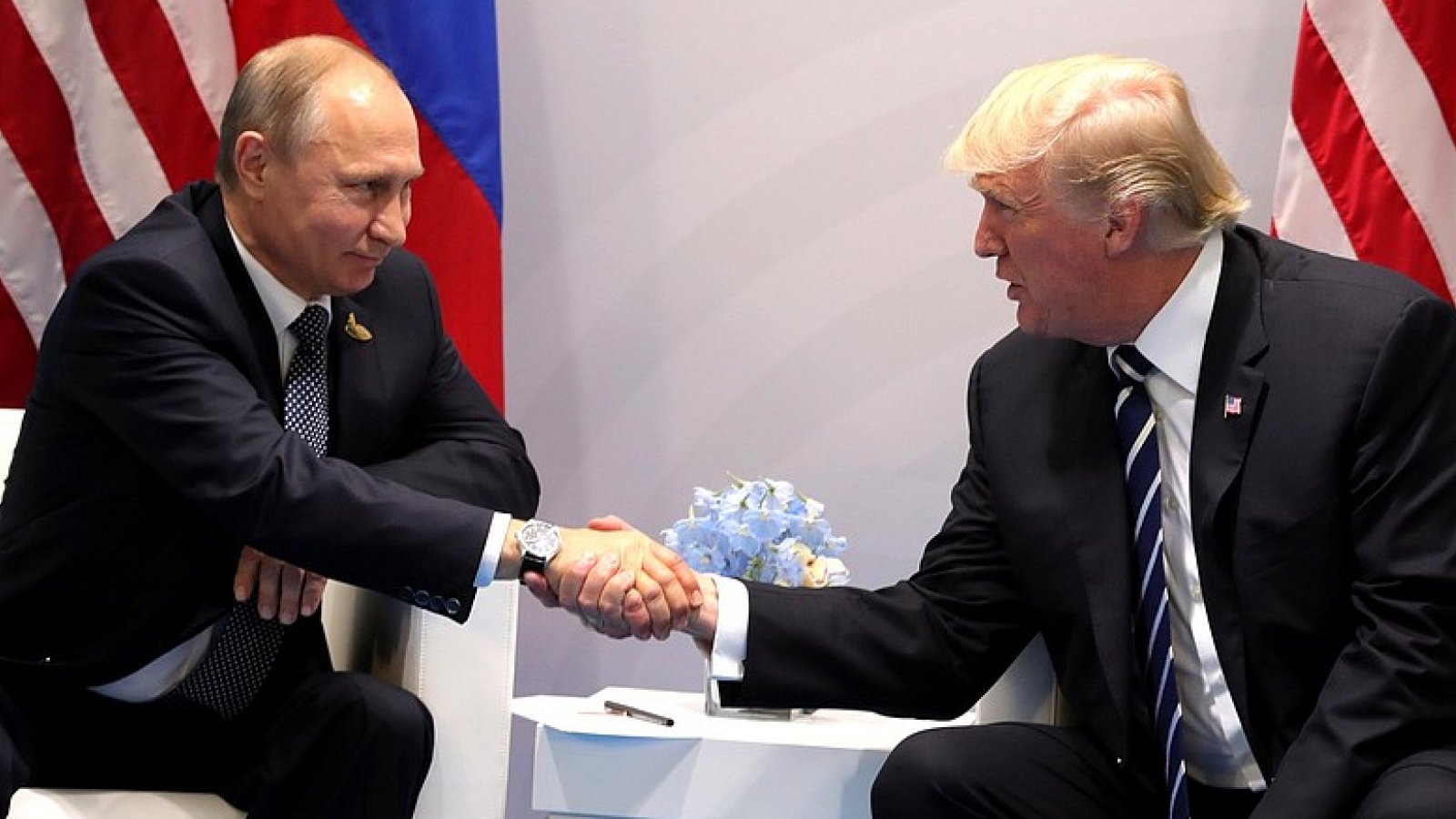 The State Department issued a statement Monday night saying it would not implement new sanctions against Russian entities, claiming just the threat of sanctions is deterrent enough. 
Congress approved sanctions with overwhelming, veto-proof margins as punishment for Russia's 2016 election interference, but President Trump was reluctant to sign the bill in August and dragged his feet on implementation in October. 
Monday was the deadline for the Treasury Department "to begin imposing sanctions against entities doing business with Russia's defense and intelligence sectors as well as to produce a hotly anticipated list of oligarchs maintaining close ties to Putin." 
Neither happened.
Politico's Elana Schor tweeted the State Department statement in two parts.
The Trump admin has notified Congress that last year's bipartisan Russia sanctions bill is serving as a "deterrent" and as such, specific sanctions aren't needed at this time. From a State Dept spox: pic.twitter.com/rwkd6Vzh66

— Elana Schor (@eschor) January 29, 2018

More on Russia sanctions from State Dept spox. "When and if we have sanctions to announce, we will do so. ... should sanctions be imposed, they would primarily be on non-Russian entities that are responsible for significant transactions w/Russia's defense & intelligence sector." pic.twitter.com/HniwuXTwLv

— Elana Schor (@eschor) January 29, 2018


The Senate Foreign Relations Committee's top Democrat, Sen. Ben Cardin of Maryland, declined to indicate the status of the sanctions bill's implementation, noting: "I am not going to discuss the classified nature of these discussions" conducted on Monday.

But Cardin suggested that he would expect continued communication with the administration on the progress of the legislation, vowing to "continue to conduct rigorous oversight to ensure that the Russian government's ability to conduct this trade is significantly impeded."

"The U.S. should be prepared to impose sanctions when the law is clearly violated," Cardin said in a statement. "The administration should not rest in these efforts and I expect a frequent and regular dialogue on this issue."
Rep. Eliot Engel (D-NY), ranking member of the House Foreign Affairs Committee, issued a less delicate response.
"The Trump Administration had a decision to make whether they would follow the law and crack down on those responsible for attacking American democracy in 2016. They chose instead to let Russia off the hook yet again. The State Department claims that the mere threat of sanctions will deter Russia's aggressive behavior. How do you deter an attack that happened two years ago, and another that's already underway? It just doesn't make sense.

"I'm fed up waiting for this Administration to protect our country and our elections. They've now shown us they won't act, so it's time for Congress to do more. We should start by passing the bill I introduced with Mr. Connolly, the SECURE Our Democracy Act, which will specifically go after those who interfered in our election. Through that or some other measure, we can no longer leave this matter in the hands of the White House. Russia is already working to interfere with the 2018 elections. This Administration has made it clear it will do nothing to stand in Russia's way."
The Washington Post reported late Monday night that the much-anticipated list of Putin friends that was due at the same time as newly implemented sanctions had not yet materialized.
The provision for what's been called the oligarchs list has caused a great deal of agita among the elites of Russia. Even without legal teeth, its imminent release has been front-page news in Russia. It has fueled panicked rumors that hundreds of people may be named, not only the moguls but their spouses and children, too.

(...)

Russia has pledged to protect the businesses and individuals named. It also has vowed to retaliate and even turned the allegation of election meddling against the United States by accusing it of interfering with Russia's presidential vote set for March.

"We really do believe that this is a direct and obvious attempt to time some steps to coincide with the election in order to exert influence on it," Kremlin spokesman Dmitry Peskov told reporters Monday.

The law calls for the list to categorize "indices of corruption," listing political and business figures by "their closeness to the Russian regime and their net worth," including the assets they hold outside Russia.

Congress also asked Treasury to analyze how sanctions would affect Russia's sovereign bonds, which could increase borrowing costs and devalue the ruble.

The Kremlin already has taken defensive actions. Putin recently announced amnesty for Russians who repatriate their assets from overseas, which could shield an estimated $200 billion currently held in offshore tax havens.
White House to Congress: Russia sanctions not needed now (Politico)
Engel Statement on Trump Administration's Failure to Impose New Sanctions on Russia (press release)
White House says there's no need for new Russia sanctions (WaPo)
Related: Monday Marks Sanctions Deadline