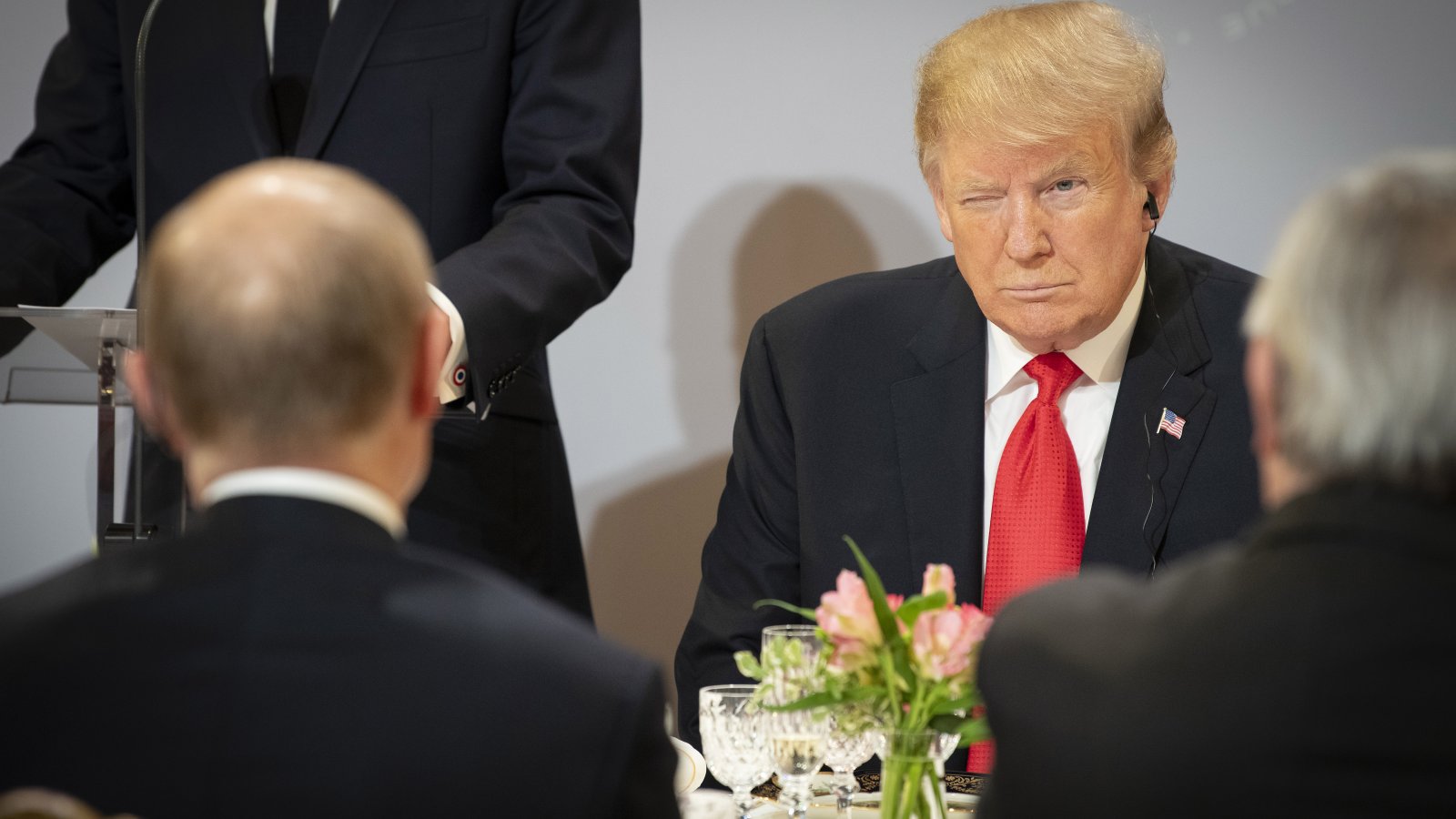 As several of President Trump's recent decisions have angered and frightened national security experts, members of Congress, and the military, Russian president Vladimir Putin has reason to celebrate. 
NYT:
First, President Trump blindsided his aides and the rest of the world by deciding to pull the full contingent of some 2,000 American troops out of Syria, helping the Kremlin to confirm Mr. Putin's gamble that intervening in Syria would revive Russian influence in the Middle East.

Mr. Trump followed that up by declaring that the United States would pull half its forces out of Afghanistan; the combined withdrawals prompted the resignation of Jim Mattis, the respected general who leads the Pentagon.

All that followed Mr. Trump's already substantial effort to undermine NATO and the European Union by weakening the American commitment to its traditional alliances.

"Trump is God's gift that keeps on giving," said Vladimir Frolov, a Russian columnist and foreign affairs analyst. "Trump implements Russia's negative agenda by default, undermining the U.S.–led world order, U.S. alliances, U.S. credibility as a partner and an ally. All of this on his own. Russia can just relax and watch and root for Trump, which Putin does at every TV appearance."

One headline in a regional Russian newspaper trumpeted, "Trump Leaves the Dog Out in the Cold," referring to Mr. Mattis's nickname, Mad Dog, from his days in the Marines.
Konstantin Kosachev, head of the Foreign Affairs Committee in the Upper House of the Russian Parliament, has said that "the departure of James Mattis is a positive signal for Russia, since Mattis was far more hawkish on Russia and China than Donald Trump." Kosachev opined that Trump apparently considered his own agenda in dealing with Russia, China and America's allies to be "more important than keeping James Mattis at his post," concluding: "That's an interesting signal, and a more positive one" for Russia.

(...)

The host of the Russian state TV show "60 Minutes," Olga Skabeeva asserted: "Secretary of Defense Mattis didn't want to leave Syria, so Trump fired him. They are leaving Syria."  
NYT:
There was also positive news for Russia on the economic front, with Washington announcing that it intended to lift sanctions on Rusal, the Russian company that dominates a large share of the world aluminum market. The firm is headed by Oleg Deripaska, an oligarch who is not only close to Mr. Putin, but also a one-time business partner of Mr. Trump's former campaign manager, Paul Manafort.
Texas Representative Lloyd Doggett told The New York Times that the move to lift Rusal sanctions amounted to Trump "sliding another big gift under Vladimir Putin's Christmas tree." The gesture is certainly being interpreted that way in Russia. Deripaska's attorneys are reportedly mounting an aggressive campaign to pursue the removal of personal sanctions from the Putin-linked oligarch as well.

Discussing the planned departure of the U.S. from Syria, state TV host Olga Skabeeva pondered why Trump suddenly decided to leave at this point in time: "Americans say, it's because he is beholden to Putin. Is that logical? Yes, it is."
NYT:
"Once again we see a president who appears to be acting impulsively and erratically — except when it comes to Russia," said Leslie Vinjamuri, professor of international relations at SOAS University of London. "Here, Trump has been eerily consistent in his willingness to adopt policies that enable Russia's strategy while undermining ours."

(...)

Mr. Trump's curbs on the United States' international role and focus on domestic matters give room for countries like China and Russia to expand their influence, analysts said.

"We can tolerate some degree of unpredictability and mercurial policies on the tactical level — it's worth it," Mr. Frolov, the Russian foreign affairs analyst, wrote in response to written questions. "In Trump we trust … to do the right thing."
Meanwhile, President Trump, pretending words speak louder than actions, pushed back online. 
"There has never been a president who has been tougher (but fair) on China or Russia - Never, just look at the facts. The Fake News tries so hard to paint the opposite picture," Trump wrote Friday on Twitter.
Glee in Russia Over Trump's Foreign Policy Largess (NYT)
Russia Gloats: 'Trump Is Ours Again' (Daily Beast)
Trump claims to be tough on Russia after Mattis resignation (Politico)