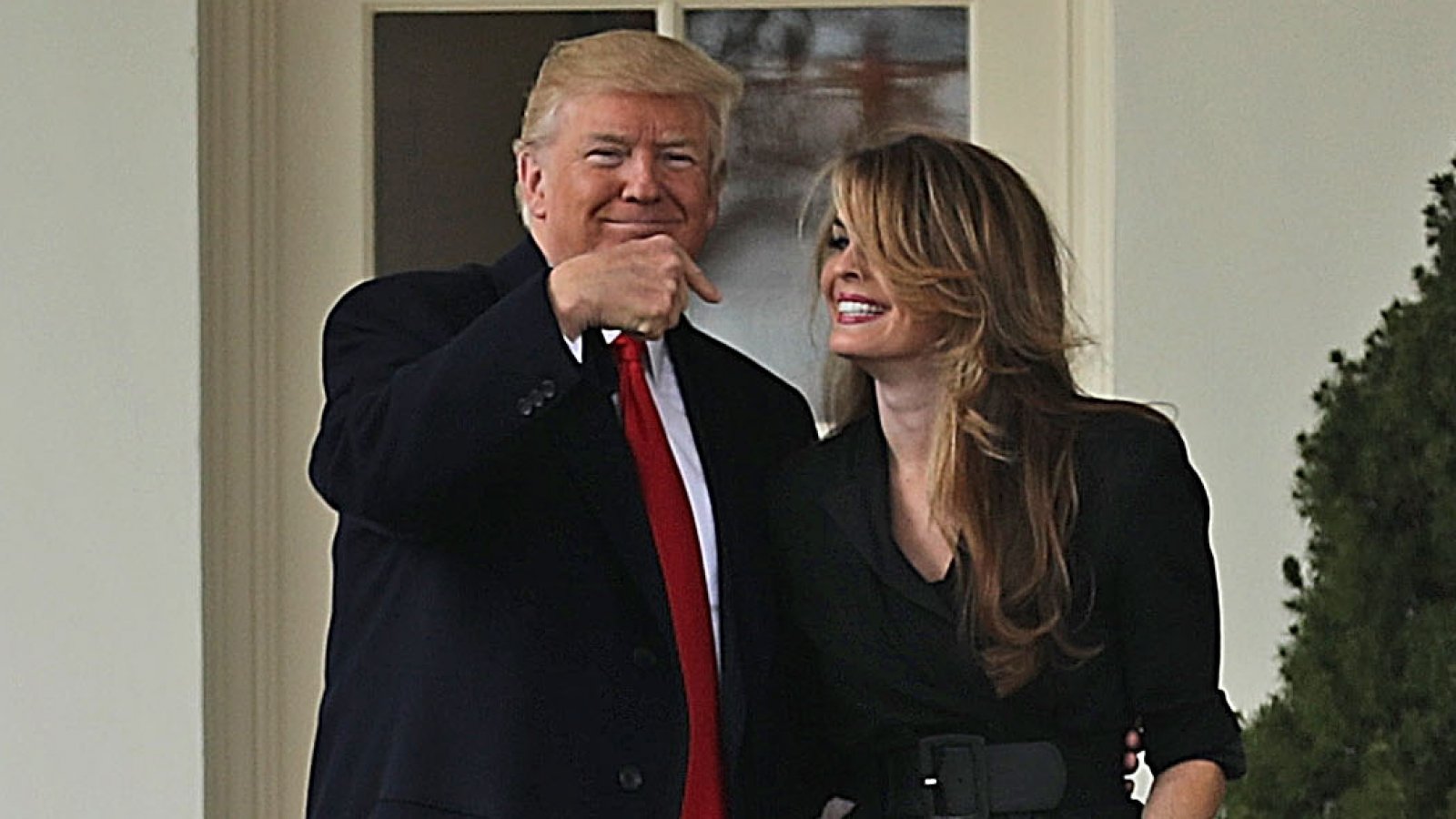 A familiar face reemerged Saturday to accompany President Trump from New Jersey to his campaign-style rally in Ohio.
Reporters spotted former White House Communications Director Hope Hicks boarding Air Force One, leading to questions as to what she was doing there since she hasn't been in the mix in months. 
CNN:
Hicks resigned from her White House role in February. Her resignation came a day after she testified before the House Intelligence Committee and said she had told white lies on the job. However, there was no indication that her resignation and the admission to the committee were connected. 

Hicks also faced scrutiny in her final days at the White House over her involvement in crafting the White House's initial defense of former White House aide Rob Porter, who resigned after two of his ex-wives came out publicly with accusations of domestic abuse against him.
Hicks was reportedly planning to spend the weekend with Ivanka Trump and Jared Kushner in New Jersey at the president's golf club, but when Trump got wind that she would be nearby, he asked her to join him for a rally in Ohio, according to Vanity Fair.

(...)

Hicks' encounter with Trump has also sparked theories about whether their conversations over the weekend could be considered witness tampering.

(...)

(Hicks has been interviewed by Special Counsel Robert Mueller, and helped draft the original statement on the Trump Tower meeting.)
While Hicks was aware that her presence on the plane would cause a stir, the people familiar with her thinking told me, she did not anticipate subsequent theories on social media and cable news about whether her private conversations with the president on Saturday could be considered witness tampering. Some widely speculated that amidst a week in which Trump was openly talking about the Trump Tower meeting, and privately fretting about his son's legal exposure, having Hicks on board was, at best, inappropriate, and, at worse, a chance for them to get their stories straight. There are, of course, plenty of people who still work in the White House and associate with the president, these people noted, including Stephen Miller, Corey Lewandowski, and White House counsel Don McGahn, who were also witnesses to these and other events of interest to special counsel Robert Mueller, and who frequently travel with the president and hold private conversations with him without any similar accusations.
Hicks ... apparently said that if the timing were right, she would consider becoming Trump's chief of staff. John Kelly is  expected to stay in the role until 2020, with reports indicating he plans to step down after Trump's first term.
How Hope Hicks ended up on Air Force One with Trump last weekend after resigning from the White House months ago (Business Insider)
Hope Hicks spotted boarding Air Force One (CNN)
Hope Hicks Spotted on Air Force One with Trump, Says She'd Consider Becoming His Chief of Staff (People)
"THERE AREN'T THAT MANY PLACES WHERE SHE FEELS SAFE": HOPE HICKS PLOTS HER NEXT ACT (Vanity Fair)