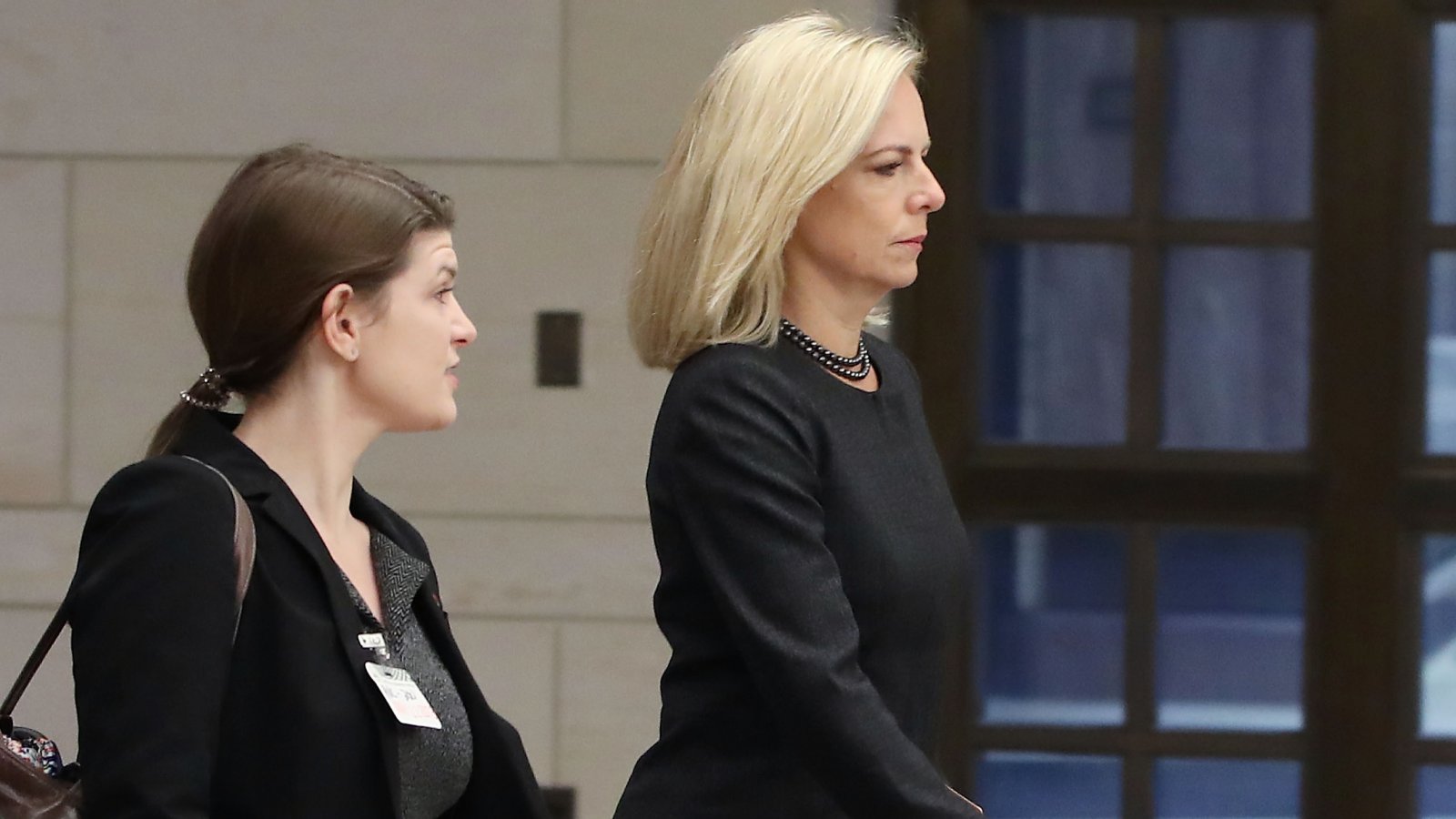 UPDATE: House Democrats are reacting to Secretary Nielsen's remarks.
Several top members of the party said they are unsure whether Nielsen was being serious or simply playing politics when she said she was unaware of the intelligence community's conclusions. They surmised she might have been trying to avoid upsetting Trump, who — along with House Republicans — has sought to discredit the idea that Russia favored his candidacy over that of former secretary of state Hillary Clinton.

"The fact that she did not seem aware of the report's findings while briefing members of Congress on the very important topic of election security is appalling to all who have tried to make progress on this issue since 2016 with little help from Republicans or this Administration," House Homeland Security Committee ranking Democrat Bennie Thompson (Miss.) said in a statement. "I sincerely hope the Secretary's comments today were not just rhetorical gymnastics to placate the President."

(...)

"If you're not in agreement about what happened . . . I don't understand how you could adequately protect us," Rep. Eric Swalwell (D-Calif.) said. "How do you say we're looking out for the next election when there's not even consensus about what Russia did in the last one?"

(...)

Given all of the attention surrounding the matter, House Democrats found Nielsen's claim about being in the dark to be disingenuous.

"To make a statement that she's unaware of the specific evidence the Russians sought to help one of the candidate in the last presidential election shows a shocking either disregard of the facts or lack of preparedness," said House Intelligence Committee ranking Democrat Adam B. Schiff (Calif.). "Like so many Cabinet members, they want to say what the president wants to hear — but that's not their job."
House Democrats question DHS chief's claim of ignorance about Russian election interference (WaPo)
---
Department of Homeland Security Secretary Kirstjen Nielsen said Tuesday she is not sure she's seen the intelligence community's assessment that Russian President Vladimir Putin interfered in the 2016 election with the intention of helping Donald Trump win. The Senate Intelligence Committee – on a bipartisan basis – reaffirmed the January 2017 IC conclusion just last week. 
"I do not believe that I've seen that conclusion that the specific intent was to help President Trump win," she told reporters on Capitol Hill, following a briefing with lawmakers about election security efforts. "I'm not aware of that."

(...)

Nielsen said she supports, more broadly, the intelligence community's findings about Russian meddling.

"I do generally have no reason to doubt any intelligence assessment," she said. And when pressed about the conclusion regarding Trump, Nielsen sidestepped. "I do believe that Russia did and will continue to try to manipulate Americans perspective on a whole variety of issues."
Secretary Nielsen's remarks appear designed to fall in line with how Republicans on the House Intelligence Committee crafted their Russia investigation report after prematurely shutting down the probe and refusing the follow through on numerous significant leads. President Trump frequently uses that tainted report to bolster his claims of "no collusion." 
DHS chief hasn't 'seen' intel finding that Russia aimed to help Trump (Politico)